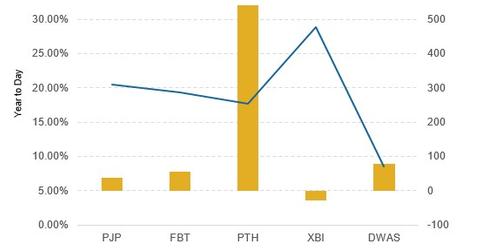 How Does Novavax Compare to Its Competitors?
By Gabriel Kane

Updated
Performance comparison of ETFs that invest in Novavax
In this article, we'll look at how Novavax compares to its competitors, as well as the ETFs that invest in the company. Novavax posted a negative EPS (earnings per share) of -$0.39 in 2Q15, which is better than its 1Q15 EPS. On the other hand, ETFs that invested in Novavax are yielding positive returns with higher PE (price-to-earnings) ratios.
As per the below graph, the SPDR S&P Biotech ETF (XBI) has a negative PE multiple of -27.88x and the PowerShares DWA Healthcare Momentum Portfolio (PTH) has a PE of 540.83x. The S&P Biotech ETF (XBI) has a year-to-date NAV (net asset value) of 28.90%.
The price movement in the last quarter for Novavax is 34.42%. The price movement for the ETFs are as follows:
As per the above findings, based on price movement, Novavax has outperformed all the ETFs. However, on the PE side, Novavax was far behind these ETFs in 2Q15.
Article continues below advertisement
Novavax compared to competitors
Novavax's competitors are Vical (VICL), Inovio Pharmaceuticals (INO), Ibio (IBIO), CSL Limited (CSLLY), Sinovac Biotech (SVA), and Biota Pharmaceuticals (BOTA). As per the companies' 2Q15 earnings report, Inovio Pharmaceuticals (INO) rose by 2.32% and Novavax (NVAX) rose by 41.7%. The net income for Novavax and Inovio increased by 15.30% and 40.92%, respectively.
Thus, Novavax's growth rate for 2Q15 is much higher than its competitors' growth rates for 2Q15.
Future outlook
After the successful testing of phase one and phase two trials, the company is planning to move to the phase three trial for its RSV F vaccine in older adults. The successful testing will reduce the company's research and development (or R&D) expense up to a certain limit. With the reduction in R&D expense, the company can grow faster and increase its value.