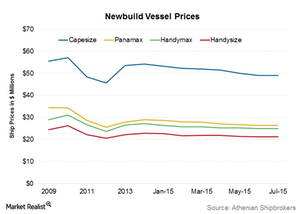 Newbuild Vessel Prices Remained Steady in July
Constant newbuild prices
Newbuild vessel prices for all of the ship sizes remained constant in July 2015—compared to June 2015. This was according to data from Athenian Shipbrokers. In July, newbuild prices were $49.1 million, $26.4 million, $25 million, and $21.2 million for Capesize, Panamax, Handymax, and Handysize vessels, respectively.
YoY (year-over-year), the newbuild prices have fallen by 14.30% for Capesize vessels and 12% for Panamax vessels. Falling newbuild vessel prices should hardly come as a surprise in a market environment that's characterized by overcapacity amid weakening demand. The prices have fallen each month since January 2015.
Article continues below advertisement
Newbuild vessel prices
Newbuild prices affect the Guggenheim Shipping ETF (SEA) and dry bulk shipping companies because, alongside ship orders, they reflect the company managers' expectation for the industry's future outlook and profitability. If the outlook is expected to be favorable, managers will order more ships and push up shipyard's utilization. Also, if rates are expected to rise, buyers will be more willing to pay higher prices.
Activity in the newbuild space is slowing down considerably. While scrapping is continuing at high levels, the demand growth from China isn't giving much confidence to dry bulk shippers to order newbuilds. This is weighing negatively on the prices.
Increased activity in demolition and fewer new orders might encourage some discipline in the oversupplied shipping industry. This would be positive for the stocks of companies operating in the dry bulk space including Scorpio Bulkers (SALT), Diana Shipping (DSX), DryShips (DRYS), Navios Maritime Partners (NMM), Navios Maritime Holdings (NM), and Star Bulkers (SBLK).
Navios Maritime and Navios Maritime Partners account for 4.20% of SEA's holdings. The SPDR S&P Metals and Mining ETF (XME) also provides global exposure to the metals and mining space.
While newbuild prices offer insight into the long-term dynamics of the shipping industry, secondhand vessel prices are used to gauge the short to medium-term outlook. We'll discuss this in the next part of this series.