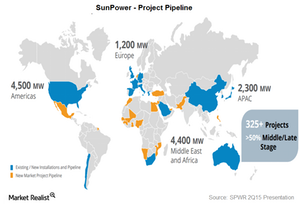 What Does the Future Hold for SunPower?
Guidance
In 3Q15, SunPower (SPWR) expects to generate $400 million to $450 million in revenues and net losses of $0.50 to $0.60 per share. In fiscal 2015, the company expects to generate $1.5 billion to $1.7 billion in revenues and losses amounting to $2.05 to $2.35 per share.
Wall Street analysts project revenues of ~$425 million, near the midpoint of guidance. Analysts expect the company to lose 25 cents per share in 3Q15. But on an adjusted basis, the losses may be just 3 cents per share.
Article continues below advertisement
Project pipeline
With the Solar Star Project now completed, the attention has shifted to SunPower's project pipeline as a sign of revenues to come. The company has a global pipeline of over 12 GW (gigawatts). Of this total, 4.5 GW are located in the US, Mexico, and Chile. The company recently acquired the 1.5 GW American project portfolio of an Australian solar project developer called Infigen Energy.
The company also has a 5.6 GW project pipeline in the EMEA region (Europe, Middle East, and Africa). The company has another 2.3 GW of projects in the pipeline in Asia Pacific.
Half of the project pipeline includes middle-to-late-stage projects, meaning that the future revenue potential from these projects is limited.
Bottom line
The solar power industry is full of opportunities. But SunPower (SPWR) lacks penetration in emerging markets and large-scale solar projects. The company has diversified its revenue stream in recent years to compete with other solar power companies (TAN) including FirstSolar (FSLR), SunEdison (SUNE), and Canadian Solar (CSIQ). How the company manages to overcome that competition in the next few quarters has yet to be seen.