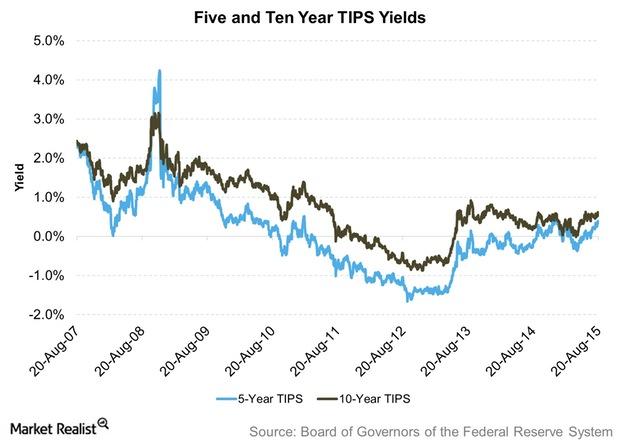 What Should Fixed Income Investors Do in Present Times?
By David Ashworth

Nov. 20 2020, Updated 5:11 p.m. ET
Widening spreads
Throughout our analysis in this series, we've seen that one trend has been consistent—widening yield spreads. Whether the spreads are between Treasuries of different maturities or between treasuries and other types of riskier bonds, they've widened, or increased.
Generally, widening spreads provide a buying opportunity for investors. This is so because spreads widen when yield of a security rises vis-à-vis risk-free assets like U.S. Treasuries. A rise in yields means a fall in prices due to their inverse relationship. Falling prices mean a cheaper asset than it was before.
Article continues below advertisement
But at several junctures in this series, we've seen that yield spreads widen when risk rises, whether it pertains to the overall economic picture or to a particular asset class. We've provided historical context wherever necessary to give you an idea of how market participants are pricing in their outlook of the economy or an asset class.
Whether these widening spreads present an opportunity or pose a threat depends on your take on economic conditions, the asset class in question, and your risk-taking ability. We hope our analysis helps you make wise investment decisions.
Monitor inflation
Inflation is the key to any monetary policy action. Presently, it has assumed an even greater significance in the United States since the Federal Reserve is at the cusp of hiking the federal funds rate. The timing of the rate hike is less significant than the ensuing pace of rate hikes and the evolving economic situation.
Inflation is expected to rise once the suppressing effect of lower crude oil prices (USO) wears off. A rise in prices would help energy companies such as Occidental Petroleum (OXY), Marathon Petroleum (MPC), and Spectra Energy (SE). But it would also help TIPS (Treasury inflation-protected securities), as inflation will rise.
TIPS compensate investors for rising inflation. So they rise in value in a rising inflation environment, unlike other bonds and related instruments (AGG). ETFs such as the iShares Barclays TIPS Bond ETF (TIP) provide exposure to TIPS.
You should monitor the difference between the yields of TIPS securities and Treasuries of the same maturity, as they give you an idea of expected inflation. If expected inflation shows an upturn, investing in TIPS could be helpful.
From our end, we'll continue to monitor developments in the fixed income arena. You can read our take on this at Market Realist's Fixed Income ETFs page.