Estée Lauder's Social and Digital Marketing Strategies
In addition to social media initiatives, Clinique's "Forecast" mobile application provides weather information and skincare tips related to weather conditions.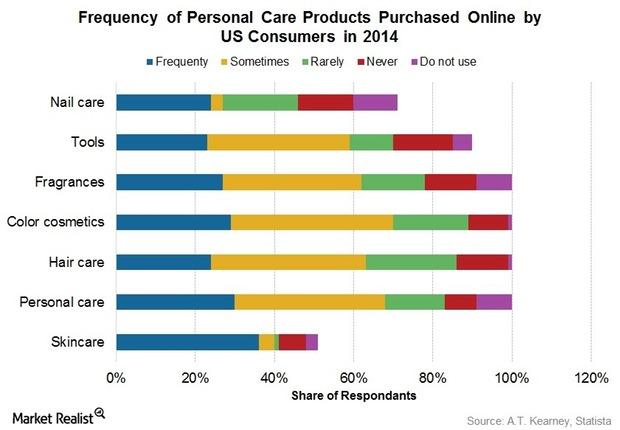 Overview
Estée Lauder (EL) manufactures and markets high-end skincare, makeup, fragrance, and hair care products. The company sells products of its 14 brands directly to consumers online through approximately 120 of its own e-commerce and m-commerce (or mobile commerce) sites. Some of the brands, including Michael Kors (KORS), Coach (COH), and Tom Ford, are licensed, whereas others, including Bobbi Brown and Clinique, are EL's own brands.
Article continues below advertisement
Article continues below advertisement
Upscale in social media and m-commerce marketing
With the proliferation of social media, digital marketers are replacing campaign-specific websites with social media communications to drive consumer interest in brands. All major cosmetic brands such as Coty (COTY), L'Oréal (LRLCY), and Shiseido (SSDOY) are stepping up their digital initiatives.
Estée Lauder has launched several marketing initiatives through social media sites such as Facebook (FB), Twitter, and YouTube to attract new customers and keep existing customers updated. According to Bloomberg cited in Ad Age, Jenner Kendall, the "Instagirl," has gathered 30 million fans as the new face of Estée Lauder.
In addition, recognizing that mobile phones and tablets are often the first-access devices for Internet usage, Estée Lauder has developed an m-commerce presence. Clinique's "Forecast" mobile application provides weather information and skin care tips related to weather conditions.
Expansion through various mediums
EL focuses on providing total value through a customized consumer experience. The company continues to expand its online strategy into a multipronged digital strategy that encompasses e-commerce, m-commerce, and digital and social media. This will help EL in brand-enhancing strategies across all online activities while also increasing direct access to consumers.
For example, according to a Milward Brown report, Clinique opened a flagship store on Alibaba's Tmall, which is a business-to-consumer e-commerce platform in China. Estée Lauder also opened a Tmall store. This helped the brand penetrate the market in major Chinese cities.
Estée Lauder has exposure in the SPDR S&P 500 ETF (SPY) with 0.1%[1. Updated July 30, 2015] of the total weight of the portfolio.