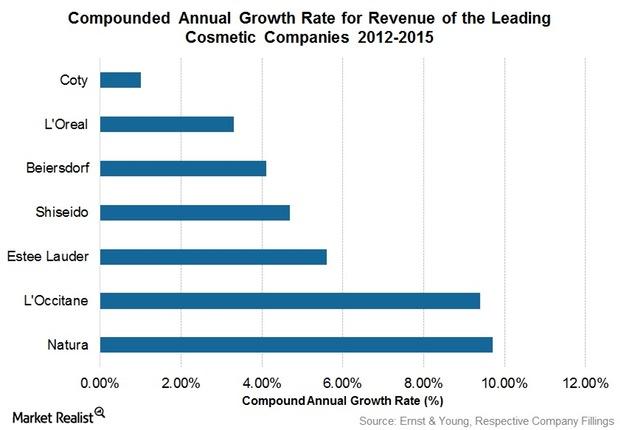 Business Overview of Estée Lauder
Understanding Estée Lauder's history
Estée Lauder (EL) is a US-based manufacturer and marketer of cosmetics and beauty care products. It operates in four product categories:
Skin care
Makeup
Fragrance
Hair care
The company was established in 1946 by Estée and Joseph Lauder in Midtown Manhattan, New York City. They established their first department store account with Saks Fifth Avenue (HBC.TO) in New York. EL's products are sold in more than 150 countries and territories under several brand names, including Estée Lauder, Clinique, MAC, and Bobbi Brown.
EL is also the global licensee for fragrances and cosmetics sold under some famous brand names such as Donna Karan, Michael Kors (KORS), and Coach (COH).
Article continues below advertisement
Above average growth
According to an Ernst & Young's report cited in Statista, EL's sales growth was ranked third-highest globally among leading cosmetic companies between the years 2012 to 2015. EL's compound annual growth rate, or CAGR, was reported at 5.6%. EL's CAGR is higher than the average of 5.4% for the peer group considered. It's also higher than that of peers Shiseido (SSDOY) and Beiersdorf (BDRFY), which posted CAGRs of 4.7% and 4.1%, respectively, over the same period.
Market cap of Estée Lauder versus peers
Estée Lauder's net revenue for fiscal 2014[1. Year ending June 30, 2014] came in at $11 billion worldwide compared to $10.2 billion in 2013.
L'Oréal SA (LRLCY) and EL have market caps of $102.5 billion and $32.6 billion, respectively. Procter & Gamble (PG), which competes with EL in the beauty business, has a market cap of $204.6 billion. Peers such as Coty (COTY) and Avon (AVP) have market caps of $10.6 billion and $2.5 billion[2. All market cap and ETF weights had been updated as of August 17, 2015], respectively. P&G plans to merge 43 of its beauty brands with Coty. To learn more on the deal, please read "Procter & Gamble Divestitures: Is 43-Brand Coty Deal the Last?"
You can gain exposure to Estée Lauder by investing in iShares Core S&P 500 ETF (IVV), which invests 0.1% of its portfolio in the company.