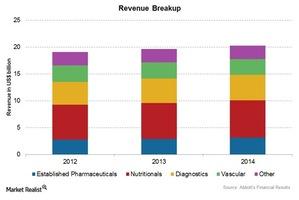 Abbott Laboratories' Associated Business Segments
Business segments
Abbott Laboratories is a US pharmaceutical and healthcare company with a significant presence worldwide. Abbott is organized around a broad and diversified portfolio of healthcare products classified under four business segments:
established pharmaceutical products
diagnostic products
nutritional products
vascular products
Article continues below advertisement
The nutritional products segment contributes over 34% of the total revenue for Abbott Laboratories (ABT). Diagnostics products, established pharmaceuticals, and vascular franchise contribute ~23.30%, ~15.40%, and ~14.70%, respectively.
Established pharmaceutical products
The established pharmaceutical products segment deals with a broad line of branded generic pharmaceuticals that are manufactured worldwide. These products are marketed and sold outside the US. The EPD (Established Pharmaceuticals Division) doesn't distribute or sell its products in the US. The key products and therapeutic areas under EPD are:
gastroenterology products including Creon, Duspatal, Dicetel, Heptral, Transmetil, Samyr, Donamet, and Duphalac
women's health products including Duphaston and Femoston
cardiovascular and metabolic products including Lipanthyl, TriCor, Teventen, Physiotens, and Synthroid
pain and central nervous system products including Serc and Brufen
respiratory drugs and vaccines including Biaxin, Klacid, Klaricid, and Influvac
Article continues below advertisement
Diagnostic products
This segment includes a broad line of diagnostic systems and tests manufactured and marketed worldwide to blood banks, hospitals, commercial laboratories, physicians, government agencies, and plasma protein therapeutic companies. The key products include:
immunoassay and clinical chemistry systems
assays used for screening and diagnosis for abused drugs, cancer, therapeutic drug monitoring, fertility, physiological diseases, and infectious diseases
hematology systems
informatics and automation solutions for use in laboratories
Nutritional products
This segment includes a broad line of pediatric and adult nutritional products manufactured and marketed worldwide. The key products in this segment include:
infant formula and follow-on formula under Similac brand
adult and other pediatric nutritional products under Ensure, PediaSure, and Glucerna brands
nutritional products for use in enteral feeding in healthcare institutions
Vascular products
This segment includes a broad line of coronary, endovascular, vessel closure, and structural heart devices for the treatment of vascular diseases. These products are manufactured and marketed worldwide. The key products in this segment are:
Xience brand coronary stent systems developed on Multi-Link Vision platform
drug-eluting coronary bioresorbable vascular scaffold—Absorb.
coronary metallic stents
coronary balloon dilatation products
vessel closure devices
carotid and vascular stent systems
The Health Care Select Sector SPDR ETF (XLV) has invested ~2.30% in Abbott (ABT), ~2.90% in Eli Lilly and Co. (LLY), ~9.50% in Johnson & Johnson (JNJ), and ~7.30% in Pfizer (PFE). Investors can choose other ETFs like the iShares US healthcare ETF (IYH) for diversification in pharmaceuticals and healthcare companies.