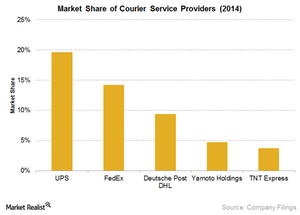 Who Are the Key Players in the US Delivery Services Industry?
Overview
The US courier and parcel delivery services industry consists of about 7,500 companies both large and small, which have combined annual revenue of about $90 billion. The industry has seen steady growth in the last few years. A major chunk of the industry is held by its two key players, FedEx (FDX) and United Parcel Services (UPS).
Article continues below advertisement
Article continues below advertisement
FedEx
Headquartered in Memphis, Tennessee, FedEx is a global courier delivery services company that was founded in 1971. It is also one of the top courier services in the world. The company has a market cap of about $49.9 billion and offers ground and air delivery services, overnight deliveries, time-guaranteed international delivery, and freight services, to name a few. The company holds about 49% of the total express shipping market in the US. The company has about 1,900 office locations in the US. FedEx forms the largest holding of 13.14% in the iShares Transportation Average ETF (IYT).
For a complete overview of FedEx, read FedEx: A Global Leader in the Express Delivery Market.
United Parcel Service
United Parcel Service is one of the leading local and global package delivery companies, with its headquarters in Sandy Springs, Georgia. Founded in 1907, the company prides itself on delivering over 15 million packages a day to 6.1 million customers in more than 220 countries around the world. Its courier express service is one of the best in the world and has the lion's share of the US domestic market as a whole. The company has about 4,756 stores, 1,000 customer service centers, 13,000 authorized outlets, and 40,000 drop boxes.
For a complete overview of UPS, read An Investor's Guide to UPS, the Company That Delivers.
Other players
Apart from the above two companies, the industry has a number of small and large companies like A1Express, Courier Express, LaserShip, and Last Mile Logistics Group that provide local deliveries or parcel services in a specific metropolitan area. However, in the recent past, there has been a rise in the number of US-based startups that are targeting this monopoly within the industry. Startups such as Shyp, PostMates, Uber, plus prominent companies such as Amazon (AMZN) and Google (GOOGL) are trying to make a mark in this industry.