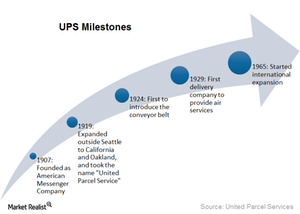 UPS: How the World's Largest Package Delivery Service Began
A look at the UPS timeline
United Parcel Service (UPS), originally called American Messenger Company, was founded in 1907 by 19-year-old James E. Casey with $100 borrowed from a friend. It started as a messenger service in the Seattle, Washington, area with just one bicycle. Most deliveries were done on foot. More distant ones were done by bicycle.
In 1913, the company acquired its first delivery car, a Ford Model T. UPS took its first steps outside Seattle in 1919, when it expanded its operations to California and Oakland. In 1924, UPS became the first courier company to introduce the conveyor belt system for handling packages.
From the beginning, UPS kept its focus on providing customers with courtesy, reliability, round-the-clock service, and low rates. These high standards set by Jim Casey helped the company become a global delivery giant.
Article continues below advertisement
In the 1930s, UPS expanded its retail services to the East Coast. However, World War II dampened its growth. Earlier, in 1929, UPS became the first package delivery company to provide air service with a privately operated airlines. However, the company shut down the service that same year due to lack of volume. The company reintroduced air service in 1953, and by 1978, the service had successfully spread across the 48 contiguous United States. UPS then entered the overnight air delivery business, called UPS Next Day Air, which also spread across all 48 states by 1985. The company fought against many odds and legal restrictions to gain nationwide access.
In 1985, UPS offered international air package and document service by linking the United States and six European nations. In 1988, the company received authorization to become an airline, and thus UPS Airline was born.
Then UPS invested in technologies such as the handheld Delivery Information Acquisition Device (or DIAD) to efficiently handle growing volumes. In 1994, it launched its online tracking service. In 1995, UPS started providing global supply chain management solutions and consulting services. It also acquired SonicAir that year and became the first to offer same-day, next-flight-out service with a guaranteed 8 a.m. overnight delivery services. The company got listed on the NYSE (New York Stock Exchange) in 1999 and continued its expansion across various markets in the world.
UPS forms 2.8% holding of the Vanguard Industrials ETF (VIS). Rival FedEx (FDX) forms 1.76% holding, while other logistic providers like C.H. Robinson Worldwide (CHRW) and Expeditors International of Washington (EXPD) form 0.42% and 0.37% holdings, respectively.