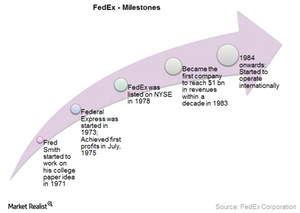 FedEx: How a College Paper Idea Turned into a Delivery Giant
Where did the idea originate?
The idea behind FedEx (FDX) started off as a term paper by undergraduate Frederick W. Smith in 1965 at Yale University. He identified that the passenger route systems used for shipping weren't economical for making urgent shipments. In his paper, he proposed a system designed for faster shipment delivery by carrying packages at night, when airports aren't congested. However, the idea didn't receive any positive response from the college professors. The idea was left behind.
Article continues below advertisement
Idea turns to a reality
Smith didn't give up. He recognized the fact that companies used inefficient routes for shipping packages. Smith continued to develop his idea for an overnight delivery service. He successfully bought a controlling stake in Arkansas Aviation Sales after his military stint in 1971. He worked on his college idea and figured out a new way to be able to get packages and other airfreight delivered within a span of two days. He named the company "Federal Express." He moved his headquarters to Memphis. The city was centrally located. Also, hangar space was readily available.
The company started its operations on April 17, 1973. It delivered 186 packages to 25 US cities on its first flight. The company underwent trying times initially, but it managed to achieve profitability in July 1975.
In 1977, the Airline Deregulation Act was passed. It removed restrictions on routes used by cargo aircraft. The company expanded its fleet to include larger planes like Boeing (BA) 727s. In 1983, it created history as the first company to reach the financial hallmark of $1 billion in revenue, within ten years of startup without mergers or acquisitions.
The company started its intercontinental operations in 1984 with services to Europe and Asia. It built its network by acquiring expert private carriers in different countries and merging them with its global experience.
According to research by Vector Strategy Group, by the start of the 1990s FedEx had a 43% market share in the express delivery market, while its rival United Parcel Service (UPS) had 26%. Today, UPS has overtaken FedEx to own an ~20% market share—compared to FedEx with a 14% market share.
FedEx forms a 2.18% holding of the PowerShares Buyback Achievers ETF (PKW). Other companies included in the ETF are Expeditors International (EXPD) and Allegiant Travel (ALGT) with 0.4% and 0.14% holdings, respectively.