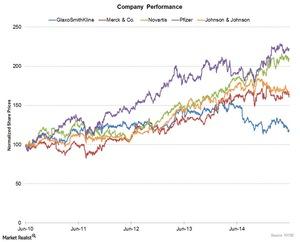 GlaxoSmithKline: The British Multinational Pharmaceutical Company
By Mike Benson

Jul. 9 2015, Published 2:01 p.m. ET
Company overview
GlaxoSmithKline (GSK) is a British multinational pharmaceutical company with headquarters in Brentford, Middlesex, United Kingdom. The company also has a significant presence in the US, with offices in Philadelphia, Pennsylvania, and Durham, North Carolina.
GlaxoSmithKline is a global company with commercial operations in more than 150 countries. It has a wide network of 84 manufacturing sites in 36 countries, and large research and development centers in the United Kingdom, the United States, Spain, Belgium, and China. Because GSK is headquartered in the United Kingdom, the company reports its financial results in British pounds.
Article continues below advertisement
Share price performance
The above graph shows the share price performance of GlaxoSmithKline against its peers. On an annualized basis, the company delivered returns of 3.5% from June 2010 to June 2015. In the same timeframe, peers like Merck (MRK), Novartis (NVS), Pfizer (PFE), and Johnson & Johnson (JNJ) each delivered an annual return of 10%, 15.8%, 17.2%, and 10.7%, respectively. During the same period, the annualized return for the SPDR Health Care Select Sector ETF (XLV) was 20.1%.
Investors interested in GlaxoSmithKline should keep in mind the currency fluctuations between the US dollar and the pound. An appreciating US dollar against the pound could have a negative impact on GSK's US listed stock price, while a depreciating US dollar may benefit the company's stock price. There is a natural hedge for GSK's revenues from the US.
The average rate of the US dollar per pound was $1.59 in 2012, $1.56 in 2013, and $1.65 in 2014. The average rate for the year is calculated as the average of the 4 p.m. buying rates for each day of the year. These conversion rates have been used throughout this entire series on GSK.
History
In 2000, GlaxoWellcome PLC and SmithKline Beecham PLC merged to form GlaxoSmithKline. GlaxoSmithKline started operations on January 1, 2001, following this merger. However, the roots of the company's existence go back several centuries.
In 1715, the Plough Court Pharmacy was established in London. This was forerunner of Allen & Hanburys (or A&H), which was acquired by Glaxo in 1958.
GlaxoWellcome PLC was formed through a merger of Glaxo and the Wellcome Foundation in 1995. The Wellcome foundation was established in London in 1880 as Burroughs Wellcome, and the trade name was changed in 1974 in the UK. Glaxo was registered in 1906. Over the years, Glaxo acquired Allen & Hanburys and Duncan Flockhart.
Smith Kline and Company was combination of John K Smith & Co., formed in 1830, and Mahlon Kline joining Smith and Shoemaker in 1865. Beecham's Pills was launched in England in 1842. These companies, after undergoing a series of mergers and acquisitions, merged in 1989 and formed SmithKline Beecham.
Today, the company has over 100,000 employees in operations throughout the world.