Eurozone Retail Activity Dipped In June, HEDJ Down 2.32%
The Eurozone's Retail PMI (purchasing managers' index) dipped to 50.4 in June from the 51.4 recorded in May.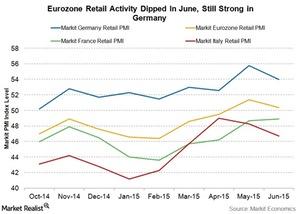 Retail PMI Dips across the Eurozone in June
The Eurozone's Retail PMI (purchasing managers' index) dipped to 50.4 in June from the 51.4 recorded in May. The WisdomTree Europe Hedged Equity ETF (HEDJ) lost 2.50% while the iShares MSCI Germany ETF (EWG) was down 2.46% on July 6.
Now, some of America's largest retail-sector companies derive a good share of their revenues from the European continent. Coca-Cola (KO) derives about 13.70% of its revenue from Europe, while McDonald's (MCD) gets a whopping 40.37% of its revenue from the region. The European Union alone commands about 36.27% of Philip Morris's (PM) revenue, according to CSIMarket. Kraft Foods, another big name in the US consumer sector, derives about 27.94% of its revenue from Europe.
A drop in retail activity certainly doesn't bode well for these companies.
Article continues below advertisement
Article continues below advertisement
The data was reported by Markit Economics—an independent global provider of influential business and economic surveys. The PMI is an indicator for manufacturing activity within a given region. Levels above 50 suggest expansion, while levels below 50 suggest contraction. The farther the absolute value of the survey result is from 50, the stronger the expansion or contraction.
Retail activity dipped in June but remains strong in Germany
The Retail PMI reports for June came in on Monday, July 6. Accordingly, the Eurozone's retail PMI dipped 1 point to 50.4 from 51.4 in the previous month. Germany, with a 1.8 point fall from the 55.8 recorded in May, maintained solid growth at 54.0. France gained 0.2 points as it rose from 48.7 in May to 48.9 in June. Italy, however, slipped a good 1.6 points to register 46.7 in June.
According to Phil Smith, an economist at Markit, "The headline Eurozone Retail PMI showed back to-back monthly rises in sales for the first time in over four years at the end of the second quarter. Growth eased and was only marginal in June, however, with both Italy and – to a lesser extent – France continuing to act as drags. France's decrease was in fact its weakest in 13 months. Germany was the driving force behind higher sales, recording its ninth straight monthly expansion and its best quarter of growth since Q3 2013."
Though Germany reported strong retail sales in June, its factory orders report that also came in on July 7 told a different story.