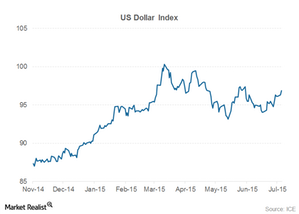 eBay's 2Q15 Earnings to Benefit from Slightly Weaker US Dollar
By Matilda James

Nov. 23 2020, Updated 3:22 p.m. ET
Investor expectations from eBay's 2Q15 earnings
Earnings season is in full swing this week with technology giants in the e-commerce space all set to report second quarter earnings. eBay (EBAY) is expected to be the first to release its earnings this Thursday, July 16, 2015.
According to analysts' consensus estimates, eBay's EPS (earnings per share) could be around $0.58 per share for 2Q15, with revenues coming in at around $4.49 billion.
Article continues below advertisement
Currency tailwind instead of headwind?
The above graph shows the movement of the US dollar over the last few months. Although the dollar has appreciated for most of 2015, it has fallen about 5% in the last quarter. Currency headwinds on US-based technology firms could be less intense as the strength of the dollar began to weaken in the second quarter.
eBay reported earnings per share of $0.77 in the first quarter, beating analysts' estimate of $0.70. Analysts had been expecting revenues of $4.2 billion, but eBay's overall revenues increased on a year-over-year basis by 4%, to $4.45 billion.
Earnings per share: A crucial metric
EPS is an important metric that signifies a company's profitability. eBay's EPS was $0.77 in 1Q15. Competitors Amazon (AMZN) and Alibaba (BABA), on the other hand, recorded EPS of -$0.12 and $0.48, respectively. In fact, Amazon beat all the analysts' EPS estimates, which resulted in Amazon's stock soaring 22% in the first quarter of 2015.
Amazon expects its year-over-year revenue growth rate for 2015 to be between 6% and 16%. Alibaba predicts revenue growth of 43% for 2015 due to the China (FXI) growth story.
Another interesting thing that happened in 1Q15 was eBay's Marketplaces revenue fell below PayPal's for the first time. PayPal's revenues grew year-over-year by 14% in 1Q15. PayPal achieved this healthy growth despite looming competition from Apple (AAPL) Pay. For more information on the competition Apple is posing, read Apple CEO calls 2015 "the year of Apple Pay."