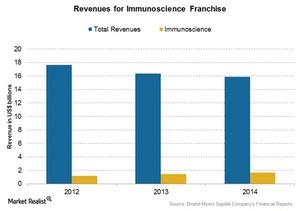 Bristol-Myers Squibb's Immunoscience Franchise
By Mike Benson

Updated
The immunoscience franchise
Bristol-Myers Squibb's (BMY) immunoscience franchise deals with medicines that help defend the body against invading pathogens like bacteria, viruses, and cancer cells. Some of the diseases BMY focuses on include rheumatoid arthritis, inflammatory bowel disease, solid organ transplants, fibrosis, and lupus.
Article continues below advertisement
Key products for immunoscience
The key product for BMY's immunoscience franchise is Orencia, a fusion protein indicated for adult patients with moderate to severe active rheumatoid arthritis. Orencia is also indicated for reducing signs and symptoms of moderate to severe active polyarticular juvenile idiopathic arthritis in certain patients. The revenues for Orencia increased due to higher demand and higher average net selling prices, partially offset by an unfavorable foreign exchange.
Research and development
Immunoscience research is focused on exploring ways to mediate the immune system processes. These system processes should ideally be encouraged when they help the body and be suppressed when they don't help the body, but it's a challenge to achieve this level.
BMY's research and development for immunoscience is focused on a group of immune-related diseases with high unmet medical needs, including rheumatoid arthritis, inflammatory bowel disease, solid organ transplant, fibrosis, and lupus.
Rheumatoid arthritis is a common disease that affects the joints. Inflammatory bowel diseases are categorized as ulcerative colitis and Crohn's disease, which cause chronic inflammation of the digestive tract. For solid organ transplant, BMY is exploring the use of improved immunosuppressive regimens that help improve patient outcomes after an organ transplant and minimize organ rejection.
Fibrosis is the formation of excess fibrous tissue that impairs the function of an organ. Fibrosis can lead to many diseases, including cirrhosis of the liver, heart failure, scleroderma, and pulmonary fibrosis.
Lupus is a potentially fatal disorder in which the immune system attacks the body's own organs and tissues. BMY is focused on systemic lupus erythematosus, the most common form of lupus, and lupus nephritis, which affects kidneys.
BMY's immunoscience franchise has competitors such as AbbVie (ABBV), Amgen (AMGN), and Pfizer (PFE). Bristol-Myers Squibb (BMY) forms about 3.8% of the total assets of the Health Care Select Sector SPDR ETF (XLV).