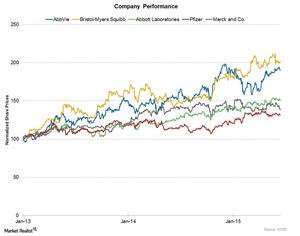 AbbVie: A US Multinational Pharmaceutical Company
By Mike Benson

Updated
Company overview
AbbVie (ABBV) is a global, research-based biopharmaceutical company headquartered in North Chicago, Illinois. The company focuses on pharmaceuticals. It develops and markets advanced therapies that address some of the most complex and serious diseases in the world. AbbVie's products offer treatments for chronic autoimmune diseases including rheumatoid arthritis, psoriasis, Crohn's disease, hepatitis C, human immunodeficiency virus, or HIV, endometriosis, Parkinson's disease, and many more.
Article continues below advertisement
Share price performance
The graph shows AbbVie's (ABBV) share price performance along with that of its peers. On an annualized basis, AbbVie delivered returns of 31% from January 2013 to July 2015. That's less than Bristol-Myers Squibb (BMY), with its annual returns of 34.3%, but higher than the returns of others including Abbott Laboratories (ABT), Pfizer (PFE), and Merck (MRK), which delivered 18.5%, 12.5%, and 14.4%, respectively, in annualized returns. The Health Care Select Sector SPDR Fund (XLV) had an annualized return of 28.4% for the same period.
History
Abbott Laboratories (ABT) is an American pharmaceutical and healthcare company with operations in over 130 countries. Abbott was founded by Wallace Calvin Abbott in 1888. In October 2011, Abbott announced its plans to separate out a part of its business. AbbVie was incorporated in Delaware on April 10, 2012, to focus on research-based biopharmaceutical manufacturing. AbbVie began independent operations on January 1, 2013. Its common stock is listed on the New York Stock Exchange.
Today, AbbVie products are sold in over 170 countries worldwide. The company employs ~28,000 employees in operations that include 15 primary research and manufacturing sites around the world.