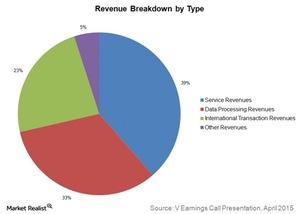 How Does Visa Make Money?
Service revenues
Visa (V) has only one reportable segment, payment services. The company's operating revenues primarily come from service, data processing, and international transaction revenues. Service revenues account for ~40% of the company's total revenues.
Service revenues include revenues from financial institution clients such as J.P. Morgan (JPM), Citigroup (C), or Bank of America (BAC), which support services for the delivery of Visa-branded payment products and solutions.
Service revenues are primarily generated from payments volume on Visa-branded cards for purchased goods and services. The above graph gives a breakdown of Visa's revenues by type.
While service revenues are Visa's biggest revenue source, discount fees are the chief source of revenue for American Express (AXP). Read more about discount fees in How American Express Makes More Money.
Article continues below advertisement
Data processing and international transactions
Visa's data processing revenues include revenues earned for authorization, clearing, settlement, network access, and other maintenance and support services. Data processing revenues are primarily generated from the number of transactions the company processes. Data processing revenues account for ~33% of the company's total revenues.
International transaction revenues include cross-border transaction processing and currency conversion activities. Cross-border transactions occur when the country of origin of the issuer is different from that of the merchant. International transaction revenues are primarily generated by cross-border payments and cash volume. Such revenues contribute ~23% to the company's total revenues.
Client incentives
Client incentives include long-term contracts with financial institution clients and other business partners for various programs designed to build payments volume, increase Visa-branded card and product acceptance, and win merchant routing transactions over Visa's network. These incentives reduce operating revenues. Visa forms ~3.2% of the Technology Select Sector SPDR Fund (XLK).