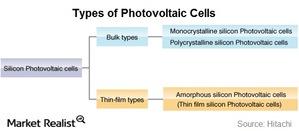 SunPower's Solar Components Business Model: How Does It Work?
Raw materials
Polysilicon is the key raw material for solar cells. SunPower (SPWR) procures polysilicon from external suppliers including the company's Malaysian joint venture—AUOSP (AUO SunPower Sdn Bhd). The company has entered into long-term minimum offtake agreements with suppliers. This ensures raw material security.
Article continues below advertisement
Mono-Si PV cells
Mono-Si (monocrystalline silicon) PV (photovoltaic) cells are the oldest type of PV cells. Mono-Si cells use the purest form of silicon. As a rule, the higher the purity of the silicon in the cells, the higher the cell's efficiency. However, the purest silicon comes at a cost. So, although mono-Si PV cells cost more, they also offer over 20% conversion efficiency. This is higher than other types of solar cells. Efficiency is measured in generation as a percentage of cell capacity.
Mono-Si had a 35% share, or 13.6 GW (gigawatts), of total global installation in 2013. It totaled 39 GW. SunPower\, Canadian Solar (CSIQ), and JA Solar (JASO) specialize in manufacturing high-efficiency PV solar cells (TAN). Due to the thicker layer of semiconductor material, mono-Si PVs take less space than other types of PVs like thin film ones manufactured by First Solar (FSLR).
SunPower had a 700 MW (megawatt) solar cell manufacturing capacity in Philippines. It's building another 350 MW there at the end of fiscal 2014. In addition, AUOSP has a 800 MW capacity. The company also sources cells from AUOSP.
Panel manufacturing
The company uses manufactured and procured solar cells to produce solar panels at its facilities in the Philippines, Mexico, and France. It has a total solar panel capacity of 1.7 GW. The company also gets solar panels assembled from third-party providers in China and the US. Apart from panels, SunPower also markets inverters and other components manufactured by third parties.