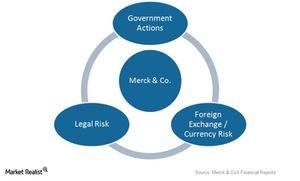 Risks Facing Merck & Co.
Risks for Merck & Co.
As an American multinational firm, Merck & Co. (MRK) faces a combination of risks in addition to industry-specific risks of the pharmaceutical industry.
Article continues below advertisement
Article continues below advertisement
Foreign exchange risk
With its headquarters in New Jersey, Merck operates globally and uses the dollar as its reporting currency. The group is exposed to foreign exchange risk primarily in European, Japanese, and emerging market currencies. The company enters into various transactions related to acquisition, licensing, borrowings, or other financial transactions that expose the company to currency and interest rate risks and that affect the reported sales, earnings, assets, and liabilities.
Government actions
With respect to prescription drugs, Merck faces risks from other governments. In Japan, the pharmaceutical industry is subject to government-mandated biennial price reductions of pharmaceutical products and vaccines.
The European Union and Japanese markets both have pervasive government involvement in funding healthcare, price controls, and reimbursing pharmaceutical and vaccine products. Consequently, Merck is subject to government decision-making and budgetary actions for its products.
Article continues below advertisement
Legal risk
Merck is exposed to legal risks such as patent, product, and commercial litigation, as well as government investigations and prohibition rules. The company has experienced a variety of legal issues regarding its marketing activities.
Vioxx, once a leading prescription pain relief medication worldwide, attracted many lawsuits for Merck when scientists discovered the medication caused heart attacks, strokes, and death. Merck withdrew Vioxx from its worldwide markets in September 2004. The company has been named as defendant in litigation relating to Vioxx in Brazil, Canada, Europe, and Israel. Overall, there were more than 60,000 claims filed in the multidistrict litigation. Apart from these, there is other pending litigation for other Merck products.
Merck faces other risks, such as integration risk, which is the merging of divisions of other companies with its own divisions. It also faces raw material or commodity price risk, which is the impact of change in raw material or commodity prices on its gross profit margins, as well as supply chain risk, or the uncertainty of raw material supplies from third parties.
Other companies like Pfizer (PFE), Novartis (NVS), and Johnson & Johnson (JNJ) also face similar risks. However, the Vioxx issue has been the biggest issue for Merck. MRK forms about 6.4% of total assets of the SPDR Health Care Select Sector SPDR ETF (XLV).