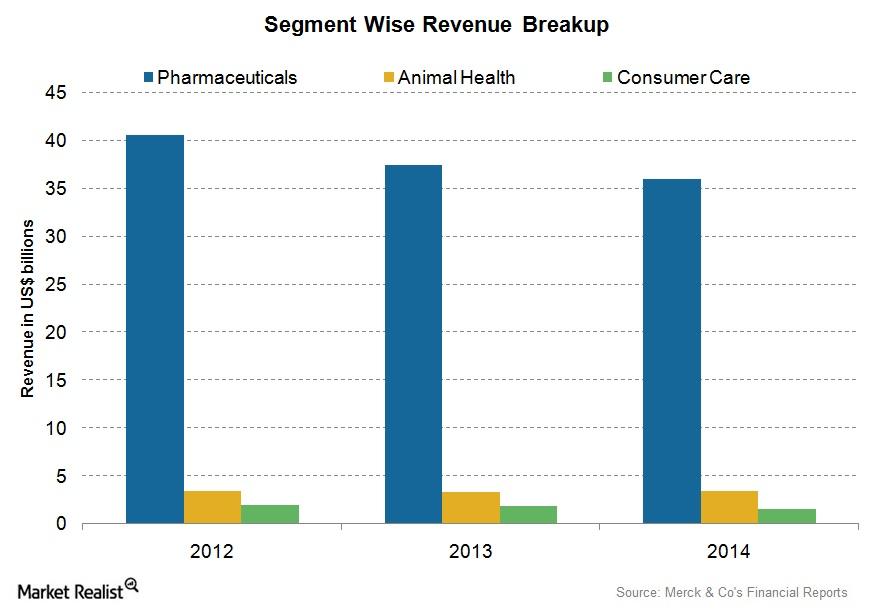 Merck's Associated Business Segments
Business segments
Merck & Co. (MRK) is one of the oldest and largest pharmaceuticals companies worldwide, with headquarters in New Jersey. The company's operations are managed by product and comprise three operating segments, including its Pharmaceuticals, Animal Health, and Alliances segments. Outside the US and Canada, Merck operates as Merck Sharp & Dohme (or MSD).
Article continues below advertisement
Structural changes
In October 2014, Merck divested its Consumer Care segment that developed, manufactured, and marketed over-the-counter (or OTC) products, foot, and sun care products. This segment accounted for $1.5 billion, or nearly 3.7%, of total revenues during 2014. The company now deals in only the Pharmaceuticals and Animal Health segments.
Pharmaceuticals
The Pharmaceuticals segment deals with products that include therapeutic and preventive agents, which are generally prescription drugs. The Pharmaceuticals division accounted for $36.0 billion, or 85%, of group net sales during 2014. A few of the company's therapeutic segments are:
Primary Care and Women's Health: includes cardiovascular, diabetes, general medicine, and women's health
Hospital and Specialty: includes hepatitis, HIV, acute care, and immunology
Oncology
Others: includes respiratory, hypertension, and osteoporosis
Vaccines
Animal Health
The Animal Health segment develops, manufactures, and markets animal health products, including vaccines. This segment's products are categorized as follows:
livestock products
poultry products
companion animal products
aquaculture products
The Animal Health segment accounted for $3.4 billion, or 8%, of group net sales during 2014.
During 2014, nearly 2.8% of group net sales of ~ $1.2 billion were contributed by other sources, including revenues from alliances, miscellaneous corporate revenue, and third-party manufacturing sales. However, a substantial part of its third-party manufacturing sales was divested in October 2013.
Merck & Co. has several close competitors, including Novartis AG (NVS), Pfizer (PFE), and Eli Lilly (LLY). The PowerShares Dynamic Pharmaceuticals ETF (PJP) invests over 5.4% of its total assets in Merck, while the Health Care Select Sector SPDR ETF (XLV) invests over 6.0% in Merck.