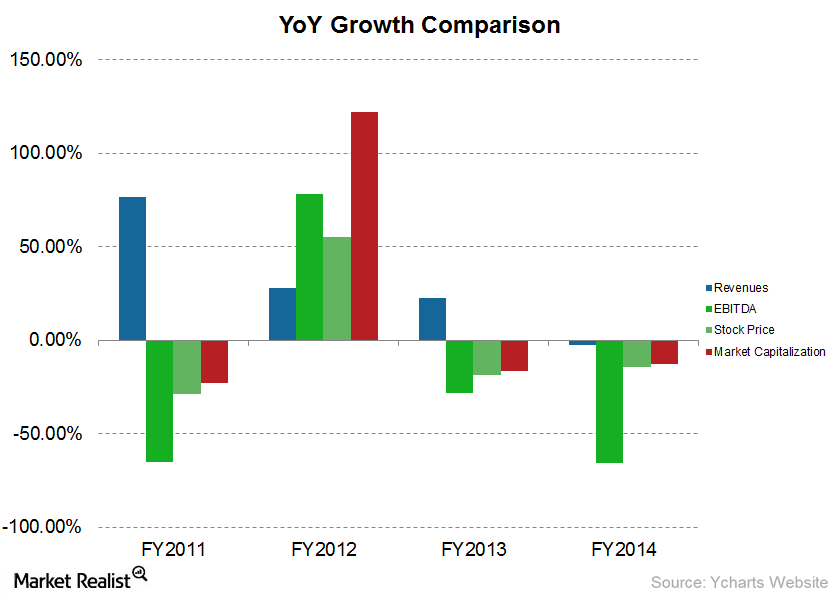 KEYW Holding in Review: 5 Years of Revenue Growth
By Adam Rogers

Jun. 17 2015, Published 8:13 a.m. ET
Overview of the firm
KEYW Holding (KEYW) delivers cybersecurity and geospatial intelligence solutions to US government and commercial customers.
The company's main competitors in the aerospace and defense sector are Exelis (XLS), CACI International (CACI), and Leidos Holdings (LDOS).
LDOS has returned 8.23% to investors in the trailing twelve months. In the same period, XLS has returned 6.23%.
Article continues below advertisement
Operating revenue
KEYW operating revenue increased from $107.99 million in fiscal 2010 to $290.53 million in 2014. Revenues saw YoY (year-over-year) growth of 76.49% in 2011, 27.77% in 2012, and 22.67% in 2013. In 2014, revenues declined by 2.74% YoY.
Article continues below advertisement
Earnings before interest, taxes, depreciation, and amortization (EBITDA)
KEYW EBITDA declined from $46.80 in 2010 to $7.16 in 2014. The EBITDA decreased by 65.28% in 2011, on a YoY basis, to $16.25 million, and then increased by 78.28% in 2012 to $28.97 million. In 2013, YoY EBITDA lost 28.13% and in 2014, 65.61%.
Stock price
In June 2010, KEYW stock was $12.88 and declined by 28.73% on a YoY basis to $9.18 by June 2012. It increased by 55.01% in June 2013 to $14.23, and has again decreased by 18.41% YoY and 14.38% YoYin June 2014 and June 2015, respectively.
Market capitalization
The company's market capitalization increased from $304.89 million in June 2011 to $379.93 million in June 2015. It declined by 23.08% YoY to $234.51 million in June 2012, and then it increased by 122.04% to $520.71 million in June 2013. The firm's market cap has since declined by 16.57% and 12.55% YoY as of June 2014 and June 2015, respectively.
Even though the company's earnings have consistently grown since 2010, its profitability has declined. This has negatively affected the its share price and market capitalization. Only in 2012 did KEYW share price and market cap increase along with profitability and revenues.