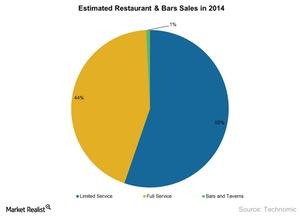 An overview of the US restaurant industry
By Adam Jones

Jan. 20 2015, Updated 2:30 p.m. ET
Importance of places to eat out
Eating is the most essential activity of our everyday lives. As the U.S. economy strengthens and more people find employment, personal incomes rise along with disposable income. Consumer confidence in the United States is at an all-time high in seven years, and people are spending more on food prepared outside the home. Whether it's breakfast, lunch, or dinner, the options abound. How much do people spend on food? According to the U.S. Department of Agriculture, Economic Research Service, the food-away-from-home (or FAFH) category amounted to 42% of household expenditure in 2012.
In the above chart, limited-service restaurants have the largest market share, at 55%. Full-service restaurants have a market share of 44%. Bars and taverns have a market share of 1%. The total estimated restaurants and bar segment sales are $431 billion for 2014, according to Technomic.
Article continues below advertisement
Different types of restaurants
There are many types of restaurants that offer a variety of experiences and food. Almost all restaurants can be classified under two broad categories:
Full-service restaurants
Limited-service restaurants
Full-service restaurants, as the name suggests, offer full table services and can be further classified into casual dining and family dining formats. Common names in this segment include IHOP and Applebee's, both under the umbrella of DineEquity (DIN), and Olive Garden under the umbrella of Darden Restaurants (DRI).
Limited-service restaurants can be further classified into fast-food and fast-casual formats. Some well known restaurants under this segment are McDonald's (MCD), Panera Bread (PNRA), and Chipotle Mexican Grill (CMG).
Series overview
In this series, we'll look at each of these formats and some of the major restaurant companies mentioned above. We'll also analyze the industry's business models, key revenue drivers for restaurants, product innovation, and trends related to the industry.
You can gain exposure to the restaurant industry through the exchange-traded fund (or ETF) Consumer Discretionary Select Sector of Standard and Poors depositary receipt (or SPDR) (XLY).