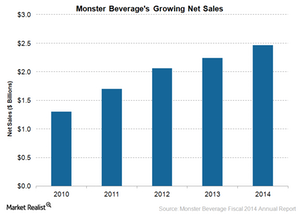 Coca-Cola Deal Gives Monster Beverage Yet Another Boost
Monster Beverage's leadership position
Monster Beverage (MNST) and Austria-based Red Bull dominate the global energy drinks market. Red Bull has a strong international presence in more than 167 countries. The Coca-Cola Company's (KO) energy brands, which are now included in Monster Beverage's offerings, will further strengthen Monster Beverage's position.
Coca-Cola's distribution network will also help boost Monster Beverage's international sales. In 2014, ~21.7% of Monster Beverage's net sales came from outside the United States.
Article continues below advertisement
Article continues below advertisement
Growth in Monster's sales
In 2014, Monster Beverage's net sales increased by 9.7% to $2.5 billion. As mentioned in the second part of this series, Monster Beverage derived ~93.4% of its net sales from energy drinks. Monster Beverage's net sales grew at a compounded annual growth rate (or CAGR) of 17.3% as of 2014 compared to net sales of $1.3 billion in 2010. Monster Beverage accounts for ~1.2% of the portfolio holdings of the Consumer Staples Select Sector SPDR Fund (XLP).
The deal with Coca-Cola has added some strong brands like Burn to Monster Beverage's energy drinks portfolio. To fight the growing competition in the energy drinks market, PepsiCo (PEP) recently introduced new flavors under its AMP Energy brand. Dr Pepper Snapple (DPS), the third largest US soda maker, lacks any major presence in the energy drinks category.
Energy drinks in the United States
According to Beverage Marketing Corporation, volumes for the energy drinks category grew by 6.4% in 2014. The category outperformed carbonated soft drinks (CSD) volumes, which declined by 1.0%. Although CSD is the largest category of the US liquid refreshment beverage market, it has been underperforming other categories like sports drinks, ready-to-drink teas, coffee, and bottled water.
Monster Beverage has huge growth prospects in the energy drinks market. However, you should keep in mind the negative publicity and litigation energy drinks manufacturers are facing due to the alleged harmful impacts of the high caffeine content. This has adversely impacted the pace of growth for the energy drinks category in the US market.
For more updates, you can visit our Nonalcoholic Beverages page.