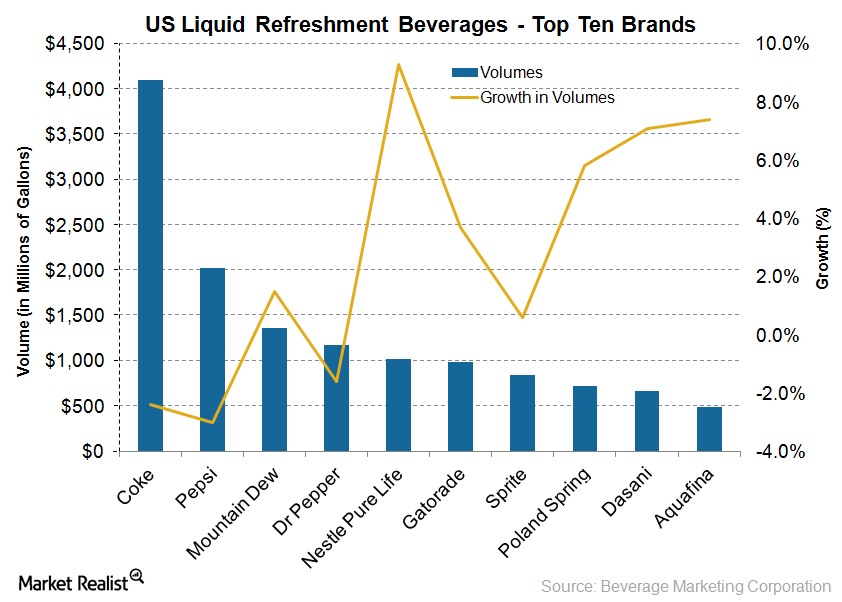 Gatorade by PepsiCo: Still Athletic at 50
Gatorade – PepsiCo's megabrand
Gatorade is celebrating its 50th anniversary this year. Gatorade is a globally popular sports drink that was developed to replenish the water, electrolytes, and carbohydrates athletes lose through physical exertion.
Gatorade kicked off its 50th anniversary with a new ad featuring 50 iconic athletes and sports moments. The brand is owned by PepsiCo (PEP). It's one of PepsiCo's $22-billion brands, generating more than $1.0 billion in annual retail sales.
Article continues below advertisement
Article continues below advertisement
Gatorade is the pioneer brand in the sports drinks category and ranks among the top ten brands of the U.S. Liquid Refreshment Beverage (or LRB) market based on volumes. According to Beverage Marketing Corporation, Gatorade's volumes touched 990 million gallons in 2014. Over the years, the brand has introduced several variants in order to capture a wider consumer base.
In 2001, Gatorade launched the Gatorade Performance Series, a sports nutrition product that addresses the growing demand for healthier ingredients. The line includes energy drinks, energy bars, and a nutrition shake.
Gatorade rebranded its product portfolio as G Series in 2010. The G series includes three categories of drinks that address the requirements before, during, and after athletic events. Gatorade also discontinued some products that failed to resonate with consumers. One of those products was G Natural, which was sweetened with stevia.
Gatorade competes with sports drinks like Powerade manufactured by Coca-Cola (KO). Other competitor drinks include alternative beverages manufactured by Dr Pepper Snapple (DPS) and Monster Beverage (MNST). Beverages make up ~20.0% of the portfolio holdings of the Consumer Staples Select Sector SPDR Fund (XLP).
Professional league sponsorships
Gatorade is popular around the world and is sold in more than 80 countries. Since 1984, it has been the official sports drink of the National Basketball Association (or NBA). The brand has also been linked to other popular professional organizations and teams such as Major League Baseball, Major League Soccer, and the National Football League.
In the next article, we'll take a look at Gatorade's performance over the years and how important it is in PepsiCo's product portfolio.