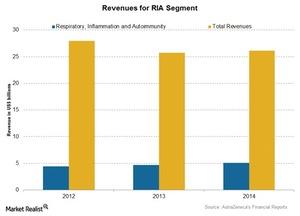 AstraZeneca's Respiratory, Inflammation, and Autoimmunity Segment
The RIA franchise
The respiratory, inflammation, and autoimmunity (or RI&A) franchise contributed nearly 19.2% of AstraZeneca's (AZN) total assets in 2014. For 2014, the RI&A franchise generated over $5.0 billion, an 8.2% increase as compared to $4.6 billion in 2013.
According to the WHO (World Health Organization) fact sheet, nearly 235 million people suffer from asthma. Prevalence is increasing among children. Also, approximately 300 million people suffer from chronic obstructive pulmonary disease (or COPD).
Article continues below advertisement
Strategic priorities
AstraZeneca believes the respiratory franchise to be one of the important platforms to return to a growth path. For this, the company also acquired Almirall's respiratory business and inhalation device subsidiary to strengthen its portfolio of respiratory products. AstraZeneca aims to establish a leading position for treatment of asthma, COPD, and idiopathic pulmonary fibrosis (or IPF) by delivering a range of differentiated therapies. For inflammation and autoimmunity, the company is aiming to develop innovative and best-in-class therapies by 2020. The estimated annual worldwide market for RI&A is $102.8 billion.
Collaborations and acquisitions
The company had acquired Pearl Therapeutics in 2013, through which it obtained a Phase IIb LAMA/LABA combination technology that may help develop its Phase II triple FDC in one device. LAMA stands for "long-acting muscarinic antagonist," while LABA stands for "long-acting beta2 agonist."
The Almirall transaction in November 2014 provided rights to on-market products EkliarGenuair and DuaklirGenuair, which were approved in EU markets in November 2014. The company also acquired AlmirallSofotech GmbH, an Almirall subsidiary focused on the development of innovative inhalation devices.
Some of the other companies focused on RI&A diseases include Teva Pharmaceuticals (TEVA), GlaxoSmithKline (GSK), Boehringer, and Merck and Co. (MRK). ETFs like the Health Care Select Sector SPDR (XLV) are focused on pharmaceuticals and healthcare companies.