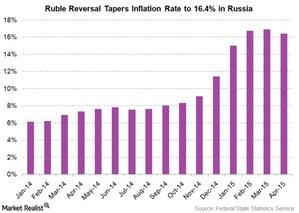 Russian Ruble Reversal: Inflation Rate Falls to 16.4% in April
Russia reports inflation numbers for April
On May 6, Russia's Federal State Statistics Service reported on the country's most current inflation numbers. Inflation in Russia (RSX), as measured by the change in the CPI (consumer price index), tapered to 16.4% in April year-over-year, down from a 16.9% rate in March. The Russia-tracking VanEck Vectors Russia ETF (RSX) was down 1.33% on May 6 but is up 36.43% since the beginning of the year.
Article continues below advertisement
Oil price rebound and the ruble reversal help taper inflation rate in Russia
Russia's inflation rate had been trending upward since the beginning of 2014, in tandem with the ruble's decline. After losing almost 40% against the US dollar (UUP) between last summer and January 2015, the ruble has reversed its trend. Also, oil prices—critical to Russia's oil-exports-driven economy—have now changed course following more than seven months in free fall.
Oil is critical to Russia and accounts for a good share of its tax revenues. Rising oil prices benefit Russian companies such as Rosneft Oil (OJSCY), Surgutneftegas (SGTZY), and Gazprom (OGZPY).
Month-over-month, the CPI rose by 0.5% in April, following a 1.2% increase in March and a 2.2% rise in February.
Russia's central bank may not resort to quantitative easing
Inflation in Russia seems to have peaked. With the key interest rate down to 12.5%—following a 1.5% cut on April 30—oil prices rising, and the ruble climbing, inflation in Russia should cool off even more in the coming months.
Russia's central bank believes that the worst is over for Russia. The Russian ruble, which at one point had sunk to an all-time low of 80 per US dollar, is now at about 50 per dollar. Nevertheless, the situation in Eastern Ukraine remains fragile, so investors in the Russian economy would be well advised to remain cautious about their holdings.
For more on this topic, read Russia's rating is at risk, affecting your return on investment.
Stay updated on our latest analysis on the US (SPY) (IVV), the Eurozone, and the global (ACWI) macroenvironment by visiting our Macro ETF Analysis page.