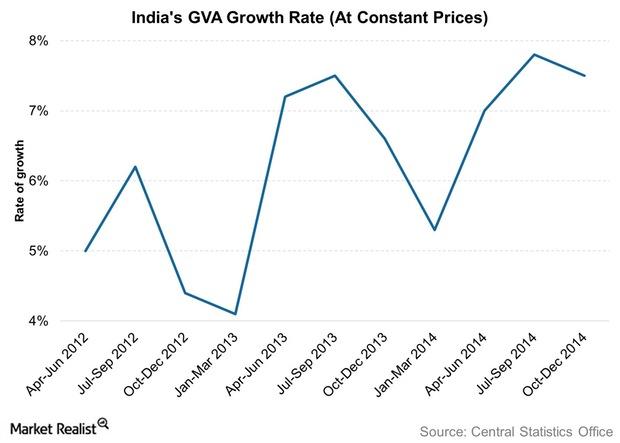 India Now Uses Gross Value Added to Calculate Economic Output
India abandons gross domestic product…
In the previous article, we introduced the changes promised by the Narendra Modi–led government. Let's get started with the big one—economic output.
The Indian economy has certainly seen a change since the new government took over. In fact, the government has abandoned the GDP (gross domestic product) methodology to calculate economic output. It has now moved to what is known as GVA (gross value added).
Article continues below advertisement
…and moves to gross value added
GVA is used in the calculation of GDP. The relationship can be expressed this way:
GDP = GVA + taxes on products – subsidies on products
As well as using GVA only, the government also revised the base year for calculating GVA to 2011–12 from 2004–05. Keep in mind that a fiscal year in India begins in April and ends in March the following year.
Impact
The impact of Modi's choice reverberated across economist and analyst forums. For fiscal 2013–14, economic output was revised to indicate 6.9% growth rate instead of 4.7% as estimated by the previous methodology. The RBI (Reserve Bank of India)—India's central bank—itself had questions about the new methodology.
For now, we'll sidestep the debate on the accuracy of and motivation for this change. Let's look at what has changed since the new methodology was introduced.
Multilateral agencies including the IMF (International Monetary Fund) are predicting that India will outpace China in terms of economic growth. For more on this, read India's Economic Growth Outlook.
According to the latest data available, India's economy grew by 7.5% between October and December 2014—Q3 for India, given its fiscal year period—following 7.8% growth in Q2.
Irrespective of the advantages or pitfalls of the newly adopted methodology, one thing is certain—India's economy has started growing again after a period of stagnation in all except two quarters throughout 2012 and 2013. Even the RBI Governor, Raghuram Rajan, said, "What I see in the Indian economy is a recovery."
A recovery is good news, whether you have investments in India-focused ETFs (INDA) (PIN) or ETFs such as the Vanguard FTSE Emerging Markets ETF (VWO) that has 12% exposure to India. The iShares MSCI All Country Asia ex Japan Fund (AAXJ) has 8% exposure to India.
VWO and AAXJ both count Tencent Holdings (TCEHY), China Mobile (CHL), and Taiwan Semiconductor Manufacturing Company (TSM) among their top holdings.
From GVA, let's move on to another important indicator—the consumer price index.