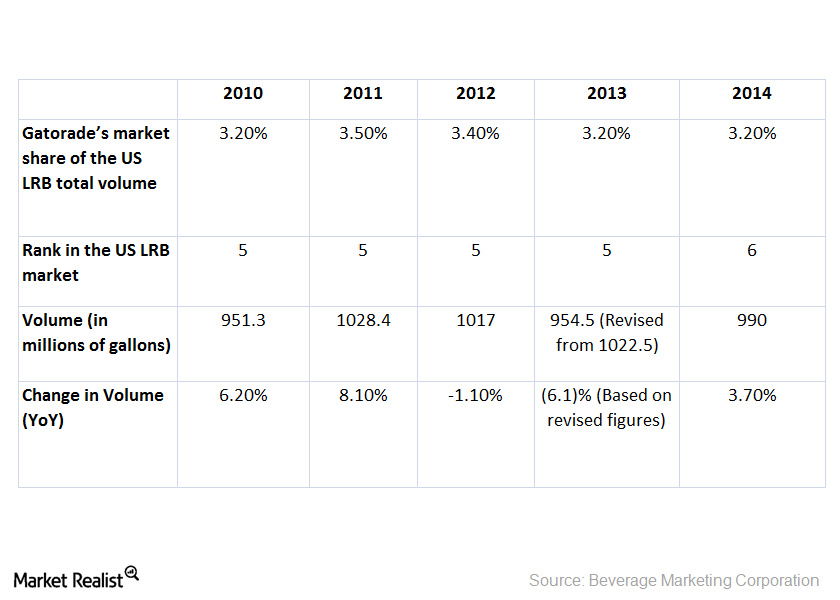 Gatorade's Position in the Sports Beverage Market
The sports beverage market – an overview
According to March 2015 data from the Beverage Marketing Corporation, US sports drink volumes grew by 3.0%, crossing 1.4 billion gallons of volume. The sports beverage category exceeded 1.0 billion gallons in volume for the first time in 2011. Although the category growth has slowed down, sports drinks are still performing better than carbonated soft drinks (or CSDs), the largest category in the liquid refreshment beverage (or LRB) market.
Article continues below advertisement
Gatorade's competitive position
Gatorade, which is manufactured by PepsiCo (PEP), is the market leader in the sports drinks market. Its closest rival is Coca-Cola's (KO) Powerade. According to Beverage Digest, Gatorade had 69.5% market share of the US sports drinks market in 2013. Powerade had 28.8% market share. Internationally, Gatorade also competes with Suntory Holdings' Lucozade brand.
Gatorade's market position slips
In 2014, Gatorade was ranked the 6th largest LRB brand in the United States, based on volumes. The brand slipped from 5th position in 2013 and was replaced by Nestle Pure Life, a popular bottled water brand. In 2014, Gatorade's volumes increased by 3.7% year-over-year to 990 million gallons. Growth in Gatorade volumes has slowed down compared to 2010 when volumes rose 6.2%.
Article continues below advertisement
What's impacting the volumes?
Gatorade's position and volumes have been impacted by rising competition. It has also felt the effect of the popularity of other growing categories like bottled water, ready-to-drink tea, coffee, and energy drinks. Sports drinks have been criticized for their impact on young consumers due to their high calorie and sugar content.
Why Gatorade's growth is vital for PepsiCo
Gatorade is a $1.0 billion brand for PepsiCo. As soda volumes continue to weaken in developed markets, it's important for PepsiCo, Dr Pepper Snapple (DPS), and Coca-Cola (KO) to focus on alternative beverages like sports drinks and ready-to-drink teas. According to Beverage Digest, US soda volumes fell for the 10th straight year in 2014.
PepsiCo can leverage its strong presence in more than 200 countries by expanding Gatorade's international presence.
Emerging markets also present a huge opportunity for Gatorade, given the rising urban population and higher disposable income levels. The shift in consumer preference for healthier beverage variants will likely drive demand for Gatorade products like Propel. Propel has a strong position in the enhanced-water market.
The SPDR S&P 500 ETF (SPY) and the iShares MSCI ACWI ETF (ACWI) invest ~9.5% and 8.9% of their portfolio holdings, respectively, in the consumer staples sector, which includes beverages.
For more updates and analysis, visit our Nonalcoholic Beverages page.