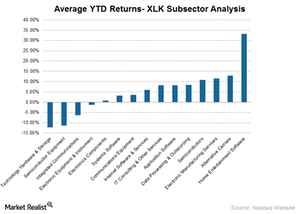 Analyzing the Subsectors in the Technology Select Sector ETF
Underperforming subsectors
In this series we analyze the subsectors in the Technology Select Sector ETF (XLK) that have under performed the most since the beginning of January 2015. We'll compare their performance with respect to other subsectors in XLK. We'll present an analysis of how these stocks stack up fundamentally against their peers. We'll also explore the reasons for their performance.
Article continues below advertisement
About XLK 
XLK is the most liquid ETF in the technology sector with over 8 million shares traded per day. It tracks the performance of 74 publicly listed companies in the technology sector. Its market capitalization is $12.98 billion.
Subsectors' performance YTD 
According to the above chart, we can see that the performance of the Technology Hardware & Storage subsector has been the worst at -12.19%. It's followed by Semiconductor Equipment at -11.31%, Integrated Communication at -6.32%, Electronic Equipment & Instrument at -1.39%, and Electronics Components at 0.80%.
In contrast, the best performing subsectors in XLK are Systems Software at 3.20%, Communications Equipment at 3.48%, Internet Software & Services at 5.97%, IT Consulting & Other Services at 8.16%, Application Software at 8.19%, Data Processing & Outsourcing at 8.31%, Semiconductors at 10.73%, Electronic Manufacturing Services at 11.52%, Alternative Carriers at 12.96%, and Home Entertainment Software at 33.17%.
Technology Hardware & Storage
This subsector underperformed the most since the beginning of January 2015. The stocks in this subsector have primarily generated negative returns for investors with the exception of Apple (AAPL). As mentioned earlier, this subsector generated returns of -12.19% in the last six months—compared to returns of 29.53% in 2014.
Stocks that are part of this subsector are Sandisk (SNDK), NetApp (NTAP), Seagate Technology (STX), Western Digital (WDC), Hewlett-Packard (HPQ), EMC (EMC), and Apple. They generated YTD (year-to-date) returns of -31.54%, -20.05%, -16.11%, -13.97%, -13.38%, -9.75%, and 20.08%, respectively.
In the next part of this series, we'll discuss SanDisk's YTD performance.