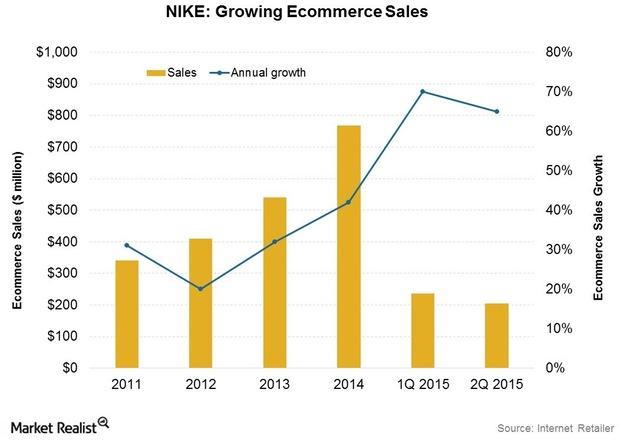 Why Nike Is Able to Turn a Profit in E-Commerce
Capturing the consumer shift to digital
Digital and e-commerce are some of the most critical growth drivers for Nike (NKE), Adidas (ADDYY), and Under Armour (UA). Nike reported a 42% jump in e-commerce sales in 3Q15. Both site traffic and conversion rates increased. The company does not disclose a dollar amount for web sales.
However, Internet Retailer estimated Nike's e-commerce revenues at $767 million in fiscal 2014, or about 2.8% of sales. Nike is targeting $2 billion from e-commerce sales by fiscal 2017. Global rival Adidas (ADDYY) is targeting over 2 billion euros from web sales by 2020, as detailed in its latest five-year plan unveiled last week.
Article continues below advertisement
Article continues below advertisement
How is Nike's e-commerce channel different?
Nike disclosed that the e-commerce channel was profitable and that profitability was growing at a faster clip than its e-commerce revenues. Mature e-retailers like Amazon (AMZN) are yet to turn in a meaningful profit. Even Walmart (WMT), which clocked $12.2 billion in online sales in the last fiscal year, estimates the channel to turn profitable in fiscal 2018.
Nike, Walmart, Under Armour, and Amazon constitute ~1.9% of the portfolio holdings in the SPDR S&P 500 ETF (SPY).
SNKRS app
Nike (NKE) and Under Armour (UA) are making significant investments in digital. Nike launched its SNKRS app for footwear purchases during the NBA All-Star Game in New York this year. The app gives users a number of advantages:
It informs customers (RXI) of upcoming and highly sought-after footwear model launches, plus the history behind them.
It enables faster purchases, through storing data on size, billing, and shipping information.
It enables personalization through filtering the feed depending on user preferences.
Currently, the app is available for Apple's (AAPL) iOS only, although Nike is planning an Android version. Mobile traffic has already outpaced desktop traffic, with the new launch being a key driver.
Article continues below advertisement
Digital community
Other initiatives include Nike's digital community. Nike's digital initiative, Nike+, has tens of millions of users. The company plans to grow that number to hundreds of millions and is using digital to personalize its relationship with customers.
Digital is also an effective marketing tool for driving higher customer engagement. For example, the Nike+ Training Club clocked ~17 million downloads by 1Q15. The app is now available in 18 languages, creating the framework for a global community.
Mapping Under Armour's digital moves
Earlier this year, Under Armour announced the purchase of two fitness app companies—Endomodo and MyFitnessPal—to create the world's largest digital fitness community.
For a detailed analysis of the purchases and how they are changing the sporting landscape, please read our earlier articles, Connected Fitness Purchases Widen Under Armour's Opportunities and Why Under Armour Had Back-To-Back Acquisitions.