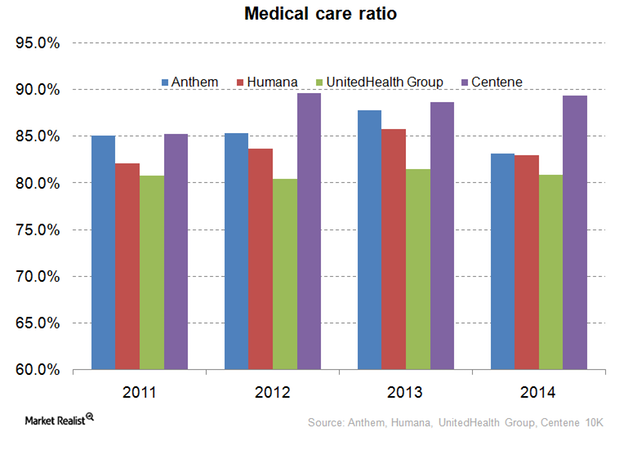 Medical Care Ratio – Centene Compared to Its Peers
Medical care ratio
For health insurance companies, the medical care ratio is the ratio of total money spent on healthcare claims to premiums earned—adjusted for tax and regulatory expenses. A smaller medical loss ratio indicates a higher profit margin.
The above graph shows that Centene's (CNC) medical care ratio is higher than other companies in the industry—like Anthem (ANTM), Humana (HUM), and UnitedHealth Group (UNH).
To learn more about the medical care ratio, read Why the Affordable Care Act hurts the managed care industry.
Article continues below advertisement
Article continues below advertisement
Centene's high medical care ratio is a result of the company's unique business mix. Unlike other health insurers (IYH) that diversify their services across various member types, Centene is mainly focused on the Medicaid population and other government-sponsored, low-income beneficiaries. This concentrated business portfolio led to high operating costs for the company.
HBR
The HBR (health benefit ratio) represents medical costs as a percentage of premiums. It excludes the impact of the taxes—related to the Affordable Care Act—imposed on the health insurance companies.
The above graph shows the HBR ratio for the different categories of Centene's enrollments. In 2014, the ABD (Aged, Blind and Disabled), LTC (long-term care), and Medicare segments had the highest HBR ratio—followed by Medicaid, CHIP (State Children's Health Insurance Program), and Specialty Services.
ABD, LTC, and Medicare
ABD, LTC, and Medicare enrollments account for about 11.2% of Centene's total membership. ABD enrollees are considered to be the costliest beneficiary sub-segment among the total Medicaid population. According to the 2013 Actuarial report on the financial outlook for Medicaid, the ABD population only accounted for 26% of the total Medicaid enrollments in 2012. However, about 65% of the total Medicaid expenditures were attributed to this segment. Since this segment uses the maximum amount of resources and forms a considerable portion of Centene's total enrollments, it led to an increase in Centene's medical care ratio.