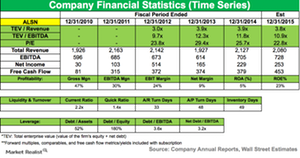 Maverick Capital Decreases Position in Allison Transmission
By Patricia Garner

Dec. 4 2020, Updated 10:43 a.m. ET
Maverick Capital and Allison Transmission
During 4Q14, Maverick Capital decreased its position in Allison Transmission (ALSN) by over $82 million. The stock accounts for 1.95% of the fund's total 4Q14 portfolio.
Article continues below advertisement
Allison Transmission's 4Q14 results beat ranges
In 4Q14, net sales grew 11% to $544 million. The company's earnings release notes that "The increase in net sales was principally driven by the continued recoveries in the North America On-Highway and Off-Highway end markets, and higher demand in the Service Parts, Support Equipment & Other end market, partially offset by lower demand in the Outside North America On-Highway and North America Hybrid-Propulsion Systems for Transit Bus end markets."
Adjusted net income was $117 million compared to $78 million in 4Q13. Adjusted free cash flow was $129 million or $0.71 per diluted share. In 4Q13, adjusted free cash flow was $109 million or $0.59 per diluted share.
In the full-year 2014, net sales were $2.13 billion compared to $1.93 billion the previous year. Adjusted net income was $479 million. Adjusted free cash flow was $524 million or $2.87 per diluted share.
Returns to shareholders
The company's board of directors authorized a stock repurchase program of $500 million. The company also increased its quarterly dividend from $0.12 to $0.15 per share. On February 19, the company declared a quarterly dividend of $0.15 per share.
Article continues below advertisement
Cautious 2015 outlook
The company sees uncertainty in the global off-highway end markets in the future. In the full-year 2015, the company expects net sales to be down by 0% to 5%. Adjusted EBITDA (earnings before interest, tax, depreciation, and amortization) are expected to be between 34% and 35.5%. Adjusted free cash flow is to be in the range of $475 million to $525 million or $2.60 to $2.90 per diluted share.
Investors can gain exposure to ALSN by investing in the iShares Russell 1000 Growth ETF (IWF). ALSN accounts for 0.039% of IWF.
Overview of Allison Transmission
Allison Transmission and its subsidiaries design and manufacture commercial and defense fully automatic transmissions. The company has 13 transmission product lines. Allison transmissions are used in a wide variety of applications, including on-highway trucks, buses, motorhomes, off-highway vehicles, and equipment such as energy, mining, construction, and defense vehicles. According to Allison's filings, it sold ~63% of fully automatic transmissions for medium- and heavy-duty on-highway commercial vehicle applications.
The company serves customers worldwide through an extensive network of 1,400 distributors and dealers. But North America represented 80% of the company's total revenue in 2014. Some of its end users include Coca-Cola (KO), Waste Management (WM), British Airport Authority, and Navistar International (NAV).
In the next part of this series, we'll cover Maverick's position change in Community Health Systems.