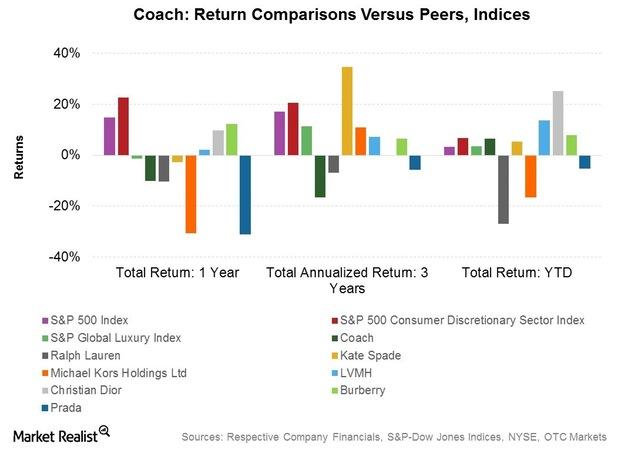 Opportunities and Challenges for Coach
Management guidance for fiscal 2015
Coach (COH) expects sales declines in the low double-digit range in 4Q15 in constant-currency terms. This is primarily due to store closures in North America, as well as lower e-commerce sales as a result of lower promotional activity. We discussed Coach's changing promotional strategy in Part 3.
Coach's global store count had declined by 48 stores in 3Q15. The company is projecting a ~5% decline in its global square footage for company-owned stores. Globally, the company is targeting about 100 store renovations under its modern luxury concept and 40–50 new store openings in fiscal 2015, according to CEO Victor Luis. Most of these changes are expected to take place in 4Q15.
Article continues below advertisement
Cost-side factors
According to CFO Jane Hamilton Nielsen, Coach's gross margins are expected to be in the 69%–70% range this year, similar to fiscal 2014. Coach is also projecting operating margins in the high teens.
The company also expects to realize $160 million in annual savings as a result of its restructuring initiatives from fiscal 2016 onward. The company also expects to maintain its annual dividend of $1.35 per share.
Turnaround
The company expects improvement in its North American store comps in 4Q15. Coach is also expecting improvement in revenue beginning in fiscal 2016, as well as "a return to growth in line with the category" in fiscal 2017, according to Jane Hamilton Nielsen.
Article continues below advertisement
Growth drivers
The company is banking on the secular shift from apparel to accessories among consumers. Besides handbags, both women's and men's footwear lines are increasing in penetration and their contribution to the company's overall sales. This trend can only be helped by the Stuart Weitzman acquisition and the deal with Interparfums (IPAR) (ITP.PA). The Stuart Weitzman integration saw new brands introduced in Coach's full-price and outlet stores for the first time in 3Q15.
Coach is also bullish on its prospects for its men's collection. The company is targeting $1 billion in revenues from men's lifestyle products by fiscal 2017.
International performance
Reported revenue is expected to be lower than sales in constant-currency terms in 4Q15, due to the appreciating US dollar (UUP). As explained in Part 2, China and Europe (VGK) are major international growth drivers for Coach. The company reported positive comps in these two markets in 3Q15. The company is planning ten net new stores in China this year. In Europe, Coach is planning to add ten net new stores and 100 wholesale locations.
As we discussed in an earlier series, trends in both support affordable luxury names like Coach, Kate Spade (KATE), and Michael Kors (KORS).
Coach also expects growth in constant-currency sales in Japan, as the comparison impact of the transaction tax is eliminated, as well as from higher traffic from Chinese tourists.
COH constitutes 0.1% of the portfolio holdings of the iShares Russell 1000 Growth ETF (IWF), which has 18.7% of its holdings invested in consumer discretionary stocks.
For more sector analysis and updates, please visit Market Realist's Consumer and Retail page.