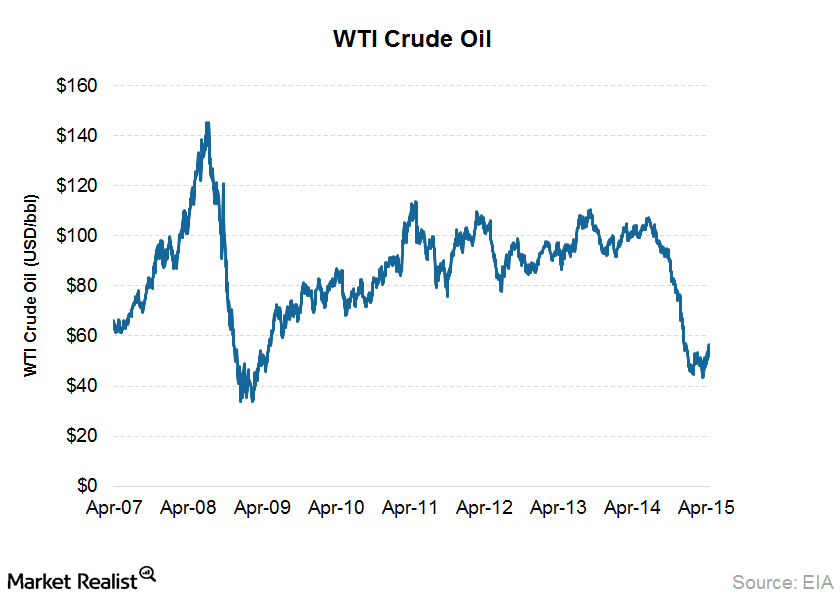 Foreign Exchange and Fuel Tailwinds Could Help Newmont in 1Q15
Foreign exchange and fuel tailwinds should decrease costs for Newmont
Gold miners, including Newmont Mining (NEM), Barrick Gold (ABX), Kinross Gold (KGC), and Goldcorp (GG) are looking to improve their all-in sustaining costs (or AISC). For the last few quarters, the AISCs have been improving on average for these miners. Investors should watch out for any tailwinds or headwinds that could impact Newmont's costs in 1Q15.
Newmont currently assumes the Australian dollar at 0.85 to the US dollar and oil at $75 per barrel. According to the company's latest earnings release, every $10 reduction in the price of oil implies an expected $30 million improvement in attributable free cash flow. Similarly, every 0.05 favorable change in the Australian dollar results in a $60 million improvement in attributable free cash flow. Newmont produces close to a third of its gold in Australia. Thus, Newmont's AISC should benefit from favorable foreign exchange movements.
Article continues below advertisement
Gold companies should also benefit from lower oil prices. In particular, companies that are unhedged should benefit more, as most of them still have oil price assumption of $90 to $100 per barrel. For example, Barrick Gold's (ABX) 2015, 2016, and 2017 fuel hedge exposure is 52%, 46%, and 42%, respectively.
For Newmont Mining (NEM), 58%, 33%, and 12% of fuel exposure is hedged for 2015, 2016, and 2017, respectively. Goldcorp (GG) is relatively less hedged, as only its Canadian operations are hedged 35% to 40% for 2015.
Exchange-traded funds (or ETFs) such as the SPDR Gold Trust ETF (GLD) and the VanEck Vectors Gold Miners Index ETF (GDX) are also a good way to invest in gold and gold stocks. NEM and ABX form 5.5% and 7.0% of GDX's holdings, respectively. GLD tracks spot gold prices, and GDX replicates the NYSE Gold Mining Index.
Peers report earnings
Market Realist will provide a report on Newmont after the earnings are released on April 24, 2015. We'll also cover earnings reports for peer companies like Barrick Gold (ABX) and Goldcorp (GG). Barrick Gold and Goldcorp will release their earnings on April 28 and April 30, respectively.
For the latest updates, visit Market Realist's Gold ETFs page.