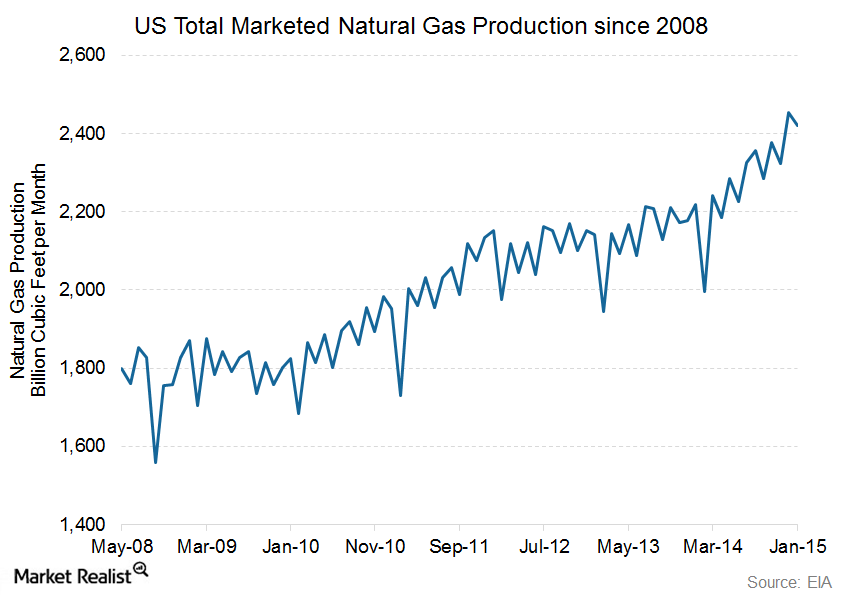 EIA Reports a Slight Decline in Natural Gas Production
Production trends last week
The EIA (U.S. Energy Information Administration) reported that total natural gas supply fell 0.2% last week, compared to the week before, according to data from Bentek Energy. However, it was still ~8.1% higher than the same week last year.
January is the latest month that data is available. In January, total marketed production was 78 Bcf/d (billion cubic feet per day). Marketed natural gas is the gas produced before associated liquids, like propane and butane, are extracted. Removing these liquids leaves dry natural gas.
Article continues below advertisement
Production trends in the past months
Stocks were at a five-year low at the end of October 2014. For that time of year, as they entered into the 2014–2015 heating season, record natural gas production—combined with new pipeline projects—was sufficient to meet the winter heating demand. From November 1 through March 31, natural gas production averaged 71 Bcf/d.
Production trends for 2015
The EIA continues to be bullish about natural gas production in 2015. The EIA's April STEO (Short-Term Energy Outlook), released on April 7, projects that total marketed natural gas production will grow 5% to 78.47 Bcf in 2015. It's expected to grow an additional 1.9% to 79.96 Bcf in 2016. It estimates that total marketed natural gas production was 74.72 Bcf in 2014.
Continued production growth set a grim scenario for natural gas prices. High production levels are bearish for natural gas prices. Weak prices hurt gas-producing companies like Range Resources (RRC), EQT (EQT), Southwest Energy (SWN), and QEP Resources (QEP). All of these companies are part of the iShares Global Energy ETF (IXC). They account for ~1.4% of IXC.
Natural gas inventories are governed by natural gas production and consumption trends. In the next part of this series, we'll analyze natural gas consumption trends.