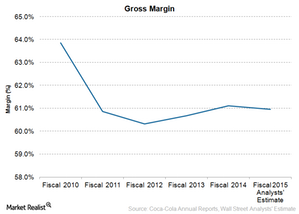 Coca-Cola's Productivity Program to Improve 2015 Margins
Productivity program
Coca-Cola (KO) expects to realize over $500 million in gross productivity in 2015. This is part of its long-term plan to achieve annualized savings of $3 billion by 2019. Of this planned total, Coca-Cola expects ~$1.4 billion to come from the costs of goods sold, $1 billion from a reduction in operating expenses, and the remainder from its marketing cost base.
The company intends to reinvest ~$250 million to $350 million of its 2015 savings in incremental media spending.
Article continues below advertisement
Gross margins improve in 2014
Coca-Cola's gross margins improved in 2014 to 61.1%, up from 60.7%. Lower revenues were offset by lower commodity costs and the deconsolidation of Brazilian bottling operations in July 2013. Gross margins also increased due to a favorable geographic mix. The emerging markets' product mix is more inclined toward sparkling beverages, which have a higher gross profit margin than still beverages.
However, operating margins declined to 21.1% from 21.8%, due to higher restructuring charges as well as charges related to structural changes.
PepsiCo's (PEP) operating margins declined to 14.4% in 2014, down from 14.6% in 2013. Higher costs related to strategic initiatives and higher commodity costs in the Latin America Foods as well as European segments contributed to the dip.
Meanwhile, Dr Pepper Snapple's (DPS) operating margins increased to 19.3% in 2014, up from 17.4% in 2013. A favorable comparison to last year included a $56 million pension withdrawal charge.
What lies ahead
In addition to Coca-Cola's productivity program, the refranchising of its bottling operations is also expected to improve its margins. The company has signed definitive agreements to continue refranchising its bottling operations in 2015 after having refranchised ~5% of its US bottler-delivered business last year.
The company expects structural changes, like this refranchising, to have a 1% to 2% unfavorable impact on gross profit growth and a 1% headwind on operating income growth. The analyst consensus estimate for 2015 gross margin comes in at ~60.9%.
Coca-Cola makes up ~0.9% of the SPDR S&P 500 ETF Trust (SPY) and ~1.5% of the iShares Russell 1000 Growth ETF (IWF).
For the latest updates, check our Beverages page.