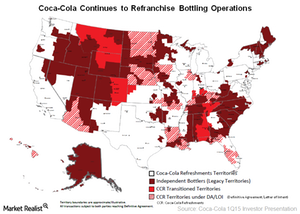 Coca-Cola Speeds Up Refranchising of Bottling Operations
Refranchising plans
Coca-Cola (KO) is accelerating the pace of refranchising of its bottling operations with the goal to hand back about two-thirds of its US bottler–delivered business by the end of 2017 and the remaining territories by at least 2020. On April 22, 2015, Coca-Cola announced that it has agreed in principle for the transfer of new, expanded territories to Coca-Cola Bottling Company High Country, Coca-Cola Bottling Company United, and Swire Coca-Cola USA.
The company has also signed letters of intent to grant expanded territories to four US bottlers, including Coca-Cola Atlantic Bottling Company, Chesterman Company, The Odom Corporation, and Ozarks Coca-Cola Bottling Company.
Article continues below advertisement
Progress in 2015
In 1Q15, Coca-Cola transferred four territories. In 2014, the company refranchised ~5.0% of its North American bottling operations. Coca-Cola is refranchising its bottling operations because of the capital-intensive, but low-margin, nature of this business. To date, territories transferred or covered by agreements for transfer represent over 15.0% of the total US bottle and can volumes.
The company stated that it is ahead of schedule to transfer bottling operations in Central Florida and in Chicago in 2Q15. These transfers will represent ~5.0% of bottle and can volumes.
Outside the US, the company has been involved in the transformation of two major bottling operations through its joint ventures in Indonesia and Africa.
Distribution networks
Both Coca-Cola and PepsiCo (PEP) have extensive bottling and distribution networks. Smaller beverage manufacturers like Dr Pepper Snapple (DPS) and Monster Beverage (MNST) are dependent on these companies for distribution of some of their brands.
With the expected closure of the strategic deal between Coca-Cola and Monster Beverage in 2Q15, Monster Beverage will be able to leverage the global distribution network of Coca-Cola to a much greater extent. Coca-Cola makes up ~0.9% of both the SPDR S&P 500 ETF (SPY) and the iShares Core S&P 500 Index ETF (IVV).
For more updates and earnings overviews, please visit our non-alcoholic beverages page.