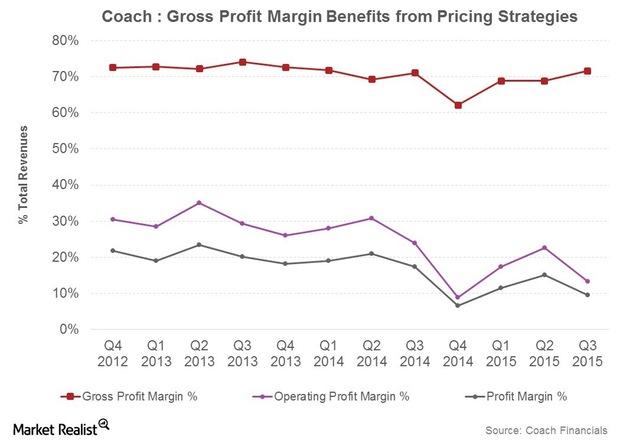 Coach's Pricing Strategies Benefit Its Margins
Coach's promotional activity
Coach's gross margin expanded to 71.6% in 3Q15 from 71.1% in 3Q14. The company has reduced the frequency of its in-store and online promotions, a factor that should also boost its margins.
There was only one invitation-only promotional event in 3Q15 in directly owned stores
E-commerce flash sales (eOS events) were down from three weekly events last year, to two per month in 3Q15
No Coach days in department stores in 3Q15, compared to ~30 days in 3Q14.
Article continues below advertisement
Pricing shifts
Coach is maintaining its pricing 40%–60% below its luxury goods competitors, after taking exchange rate factors into account, according to CEO Victor Luis.
That said, Coach reported higher handbag sales at the $400-plus pricing bracket. Their contribution is up from 23% of total handbag sales last year to 30% in 3Q15. The contribution of the logo bags is in decline—to less than 5% from less than 10% of retail sales last year. These bags retail at lower price points compared with the company's leather handbags.
But while the average ticket size has risen, the company reported lower store traffic and conversion rates.
Selling, general, and administrative costs
However, Coach's operating and net income margins were down year-over-year to 13.3% and 9.5%, respectively. The decline was primarily due to the decrease in the top line as selling, general, and administrative (or SG&A) costs were flat year-over-year.
Although marketing costs rose by $10 million in the quarter, declines came about in depreciation and occupancy costs. The company shifted a large part of its planned store renovations and new store openings, slated for fiscal 2015, to the fourth quarter.
The appreciating US dollar (UUP) also helped lower reported expenses. The company's restructuring efforts are also expected to lower SG&A costs by $100 million in fiscal 2015, according to CFO Jane Hamilton Nielsen.
Peer group comparisons
Coach's gross margin is higher compared with US-based luxury goods (XLY) firms Michael Kors (KORS), Kate Spade (KATE), and Ralph Lauren (RL). In the global peer group considered, European firms (VGK) (EFA) Prada (PRDSY) and Burberry (BURBY) have performed better than Coach in terms of gross, operating, and net margins.
Despite the improvement in 3Q15, margins for Coach are still well below the 75% region, which the company earned a few years ago. Also, the current quarter notwithstanding, gross margins for Coach have been declining, while they have been rising for Kate Spade and Michael Kors.