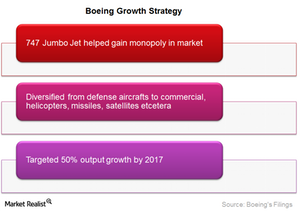 Boeing: A Wide Diversification Wingspan
By Ally Schmidt

Updated
Past growth
Like most other domestic aerospace companies, Boeing (BA) also serves as a defense manufacturer to the US government and its allied agencies. After World War II, the company correctly identified an opportunity in the commercial aircraft market. By the end of the 20th century, Boeing became the world's top-selling commercial aircraft company.
Boeing's iconic 747 jumbo jet helped it become the largest aircraft manufacturer. However, its archrivals McDonnell Douglas and Airbus always kept it on its toes. So, when Boeing bought McDonnell Douglas in 1996, it helped Boeing overtake Lockheed Martin (LMT) as the largest defense contractor.
Article continues below advertisement
Diversification strategy
Apart from manufacturing airplanes, Boeing's capabilities also encompass the development of missiles, helicopters, satellites, and a wide range of other technical products used in the defense and security segment.
This diversification of revenues has helped the company weather adverse industry conditions. The company now receives a larger part of its revenues from its commercial business segment, while it also undertakes government orders for defense. Some of its customers include Southwest Airlines (LUV), United Airlines (UAL), General Electric (GE), and Delta Air Lines (DAL).
Funds such as the iShares Transportation Average ETF (IYT) and the SPDR S&P Transportation ETF (XTN) hold stocks in US airlines. The effects of sequestration on Boeing were offset by the growth of its commercial segment.
This diversification not only shielded Boeing (BA) from any effects of the sequester, it also fueled the company's growth during lean budgetary times. The company has targeted a 50% increase in its output since 2010, which it expects to reach by 2017. These production hikes are expected to drive its revenues. Higher production rates in the past have helped fulfill its order backlog for the past few years. This trend is expected to continue, unless subdued by lower growth in orders due to the global fall in oil prices or other economic factors.
Ailing defense sector
The commercial air segment seems to be healthy. However, what about Boeing's struggling defense segment? We will explore that in our next article.