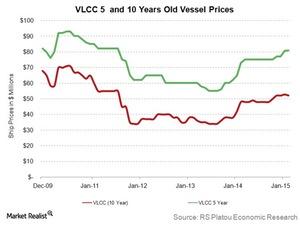 5- and 10-year VLCC Prices Higher in February
By Katie Dale

Updated
Secondhand vessel prices
With faster deliveries and employment of vessels, secondhand vessels tend to reflect industry participants' expectations for medium-term fundamentals. This is unlike newbuilds where two years for delivery is mandatory.
This trend suggests that secondhand vessel prices tend to be more responsive to changes in current rates. Since buyers and sellers are more medium-term thinkers, they're more responsive to industry turnarounds compared to newbuilds.
Article continues below advertisement
 Secondhand vessel values
Five-year-old VLCC prices in February 2015 increased to $80.9 million from $80.7 million in January 2015. Ten-year-old VLCC prices decreased to $52.2 million from $52.8 million in previous month levels.
Suezmax five-year old prices stood at $60.1 million in February 2015 compared to $59.7 million in January 2015. Other vessel values such as the Aframax five-year-old and ten-year-old stood at $45.8 million and $31.1 million, respectively, compared to $45.6 million and $31 million, respectively, in January 2015. In February 2015, the Panamax five-year-old increased to $35.9 million from $35.8 million in January 2015.
Secondhand vessels benefit
Tanker stocks such as Teekay Tankers Ltd. (TNK), Tsakos Energy Navigation Ltd. (TNP), Nordic American Tanker Ltd. (NAT), and Frontline Ltd. (FRO) as well as the PowerShares DB Oil Fund ETF (DBO) are likley to benefit with the rising secondhand vessel values. These values indicate higher demand in the market led by larger shipping requirements.