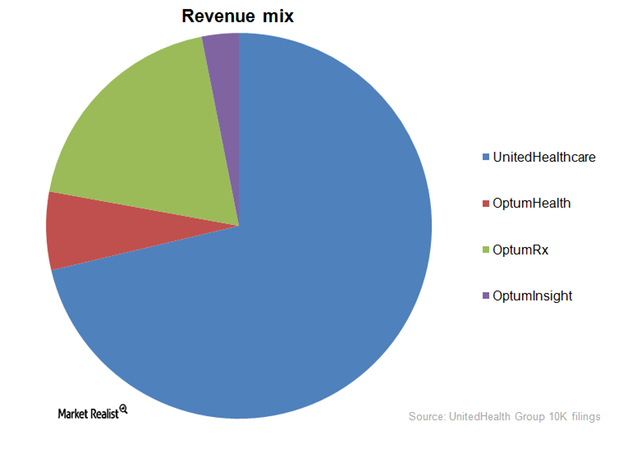 What are UnitedHealth Group's key business segments?
Business segments
Players in the health insurance industry (XLV) rely on an optimal business mix that diversifies business risks while ensuring sustainable profits.
Out of UnitedHealth Group's (UNH) four business segments, UnitedHealthcare accounted for 71.3% of the company's revenue. It was followed by OptumRx, OptumHealth, and OptumInsight. They registered 19%, 6.6%, and 3.1% in revenue in 2014, respectively.
Article continues below advertisement
Article continues below advertisement
UnitedHealthcare
The UnitedHealthcare segment provides health insurance services to about 50.1 million individuals. It includes plans like MA (Medicare Advantage), managed Medicaid, employer-sponsored insurance, and individual insurance.
Other health insurance companies include Aetna (AET), Humana (HUM), and Cigna (CI). UnitedHealth Group expanded its footprint in international markets. Through its global segment, UnitedHealth Group provides health benefits and associated services to 4 million people, mainly in Brazil. It provides its services in more than 125 countries around the world.
OptumRx
OptumRx provides PBM (pharmacy benefit management) services to more than 30 million Americans. It manages about $40 billion in pharmaceutical spending annually. The segment is responsible for networking with retail pharmacies and operating mail-order or direct delivery pharmacies to manage the prescription drug expenses of UnitedHealth Group's other health plans. It also manages the prescription drug expenses of the company's stand-alone PDP (prescription drug plans).
Article continues below advertisement
OptumHealth
OptumHealth is responsible for improving the quality of care and reducing expenses for services provided by UnitedHealth Group. The segment offers networks of specialist providers. It improves communication. It also serves its customers' health financial needs.
OptumInsight
OptumInsight capitalizes on UnitedHealth Group's domain expertise. It provides technology, operational, and consulting services to other players in the healthcare industry.