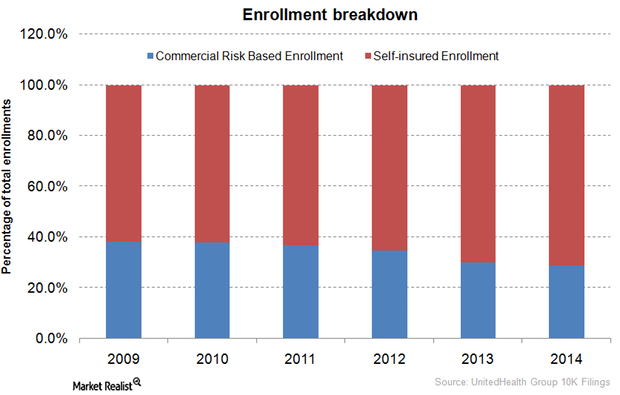 UnitedHealth Group's employer-sponsored and individual insurance
Self-insured plans
The health insurance industry is witnessing a gradual shift from fully-insured to self-insured forms of insurance. Employer-sponsored coverage, a major form of insurance, increasingly adopted self-insured plans. They're more cost-effective and flexible than fully-insured plans.
To learn more about the difference between fully-insured and self-insured plans, read Shift to self-insurance plans affects health insurance stocks.
Article continues below advertisement
Article continues below advertisement
Enrollment breakdown
UnitedHealth Group's enrollment breakdown for employer-sponsored and individual insurance plans shows that self-insured enrollments, as a percentage of total enrollments, increased from 61.8% in 2009 to 71% in 2014. Large employers generally opt for self-insured plans because they have the financial capacity to bear the responsibility for future healthcare expenses. Small employers prefer to buy fully-insured plans.
In the case of self-insured plans, private health insurers (XLV)—like UnitedHealth Group (UNH), Aetna (AET), Cigna (CI), and Anthem (ANTM)—receive a fixed monthly service fee in exchange for the administrative support they provide to the employers. Since the fee received per member for self-insured plans is less than the premium charged per member for fully-insured plans, the shift to self-insured plans reduced the revenue earned per enrollment for the insurers.
Article continues below advertisement
Distribution
UnitedHealth Group distributes its products through consultants or direct sales to the larger employers. It uses direct sales and sales through collaboration with brokers and agents for smaller employers. As its distribution channel, the company also uses wholesale agents or agencies that contract with health insurance companies.
The company expanded its distribution channels to include PEO (professional employer organizations). They're firms that provide employer services—like benefit and payroll management—in exchange for fees, associations, and private equity relationships.
Since public health insurance exchanges are an effective distribution channel for individual and small group insurance plans, UnitedHealth Group increased its participation in these exchanges. In 2014, the company participated in 13 state public exchanges. It will participate in 23 state exchanges in 2015.
In 2014, UnitedHealth Group also launched UnitedHealthcare Marketplace—a proprietary platform for employers to offer their employees options in the company's plans.