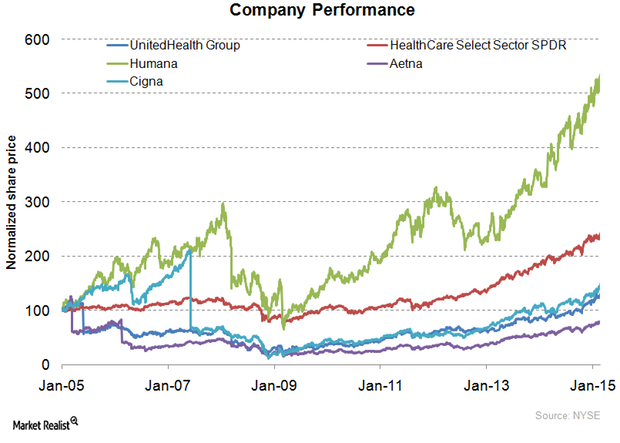 UnitedHealth Group: The history of a health insurance giant
Overview
With a market capitalization of $107.1 billion, UnitedHealth Group (UNH) is the largest insurance provider in the US. The company's headquarters are located in Minnetonka, Minnesota. It provides health benefits and services to more than 85 million people in 50 states in the US. It provides its benefits and services in more than 125 countries around the world.
UnitedHealth Group registered revenue worth $130.5 billion in 2014. It was ranked 14th in the Fortune 500 rankings for 2014.
Article continues below advertisement
Share price
The above graph shows that Humana (HUM) consistently outperformed the Healthcare Select Sector SPDR (XLV). It has been the best performer in the health insurance industry. UnitedHealth Group only delivered 2.7% on an annualized basis from January 2005 to January 2015. Humana, Cigna (CI), and Aetna (AET) registered 18.3%, 4%, and -2.2% annualized returns, respectively.
History
UnitedHealthcare was founded in 1977. It went public in 1984. The company was named UnitedHealth Group in 1998. UnitedHealth Group achieved its first significant success in 1997. The AARP (American Association of Retired Persons) selected the company to provide coverage for its members.
In 1997, the company also expanded its Evercare program. The program was designed to provide long-term care to patients in nursing homes. It was also designed to cover elderly individuals staying in their homes and people with chronic illnesses.
In 2002, UnitedHealth Group merged its Medicaid business with AmeriChoice—the company's chosen platform for serving poor people.
Over the years, the company increased its focus towards employer-sponsored and individual health plans. It provides consumer-friendly payment options. In 2009, UnitedHealth Group introduced a diabetes health plan—the first of its kind. In 2010, the company also announced an innovative cancer care payment model to pay oncologists.
From providing benchmarking tools to physicians, to improving service quality and educating customers about their health benefits, UnitedHealth Group consistently differentiated itself from its peers through the effective use of technology solutions. This helped the company attract new enrollments. It also helped the company control its expenses.