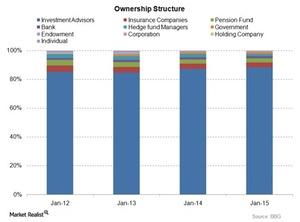 Understanding Johnson & Johnson's Ownership Structure
Ownership structure
Johnson & Johnson (JNJ) is a publicly traded company. It has been listed on New York Stock Exchange since 1944. Its common stock is part of the Dow Jones Industrial Average. The company is one of the Fortune 500 companies. Johnson & Johnson's market capitalization is ~$280 billion.
Article continues below advertisement
Passive investors
The above graph shows Johnson & Johnson's ownership structure in January 2015. It's dominated by passive investments. Passive investors aren't involved with the company's day-to-day activities. These investments account for more than 80% of the total ownership structure. BlackRock, The Vanguard Group, and State Street Corp. are the top three holders with 6.17%, 5.89%, and 5.72%, respectively, among the investment research firms or the mutual fund investors in the company.
Banks, pension funds, government, and insurance companies together account for about 11% ownership in Johnson & Johnson. The banks' stake increased from 1.36% in January 2012 to 1.59% in January 2015. Pension funds' stake decreased from 3.83% in 2012 to 2.81% in 2015. The government's stake increased from 0.25% in 2012 to 1.37% in 2015.
Article continues below advertisement
Active investors
Active investors including hedge funds and individual investors. Together, they account for ~2.5% ownership. Hedge funds' holdings decreased from 2.38% in 2012 to 1.55% in 2015.
Overall, there are 3,334 institutional owners holding 2.1 billion shares. Out of these, 75.6% are floating shares. Insiders hold around 0.02% shares.
ETFs holdings
Johnson & Johnson is a major part of the Health Care Select Sector SPDR ETF (XLV). It forms 10.54% of XLV's total assets. Other parts include Pfizer (PFE), Merck & Co. (MRK), and Gilead Sciences (GILD) with 7.40%, 6.46%, and 5.94% of XLV's total assets.
For the latest updates, visit Market Realist's Pharmaceuticals page.