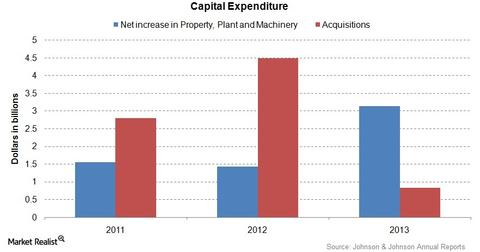 Understanding Johnson & Johnson's Growth Strategies
By Mike Benson

Updated
Growth and capex
The pharmaceuticals industry is capital intensive. The industry requires large investments in order to have manufacturing and research and development, or R&D, facilities. Johnson & Johnson (JNJ) is working on various organic and inorganic growth strategies in order to maintain its position as a leading pharmaceutical company worldwide.
Johnson & Johnson's net spending in the purchase of property, plant, and machinery in 2013 was over $3 billion. It was more than 100% of the net spending in 2012. This indicates that the company is spending on capital assets.
Article continues below advertisement
Acquisitions for growth
The figures represented in the above chart are net of cash acquired. Under the inorganic growth strategy, the company constantly acquires smaller companies. In 2013, certain businesses were acquired for $835 million in cash and $193 million of assumed liabilities. The 2013 acquisitions included Aragon Pharmaceuticals, Shanghani Elsker For Mother & Baby Co. Ltd., and Flexible Stenting Solutions, Inc.
In 2012, certain businesses were acquired for $17.8 billion in cash and stock and nearly $1.2 billion of assumed liabilities. The 2012 acquisitions include Synthes, Guangzhou Bioseal Biotech Co. Ltd., Angiotech Pharmaceuticals, Corimmun GmbH, Calibra Medical, and Spectrum Vision LLC.
The above graph shows the company's focus on organic and inorganic growth. The company's spending on capital assets indicates its willingness for organic growth. The spending on the acquisitions indicates its willingness for inorganic growth. Recently, the company acquired many companies in order to strengthen its presence in all three of its segments—Pharmaceuticals, Consumer Products, and Medical Devices and Diagnostics.
Johnson & Johnson also opted to divest its businesses. In 2013, the company opted to divest women's sanitary protection products in the US, Canada, and the Caribbean markets. In 2014, the company opted to divest its Ortho-Clinical Diagnostics business.