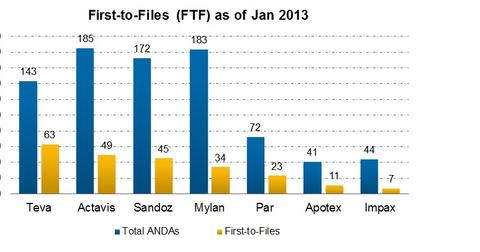 Is a Para IV Filing Rewarding for a Generic Company?
By Nicole Sario

Mar. 25 2015, Updated 2:06 p.m. ET
Incentives of Para IV filing
A generic company is rewarded for a Para IV filing. The first applicant to submit a substantially completed ANDA (Abbreviated New Drug Application) is given marketing exclusivity for 180 days. Exclusivity means that no company is allowed to launch its product during this period.
As a result, there isn't any competition. As the first mover, this helps the manufacturer have an advantage. It can garner a market share. This is a valuable opportunity to maximize profit margins without any competition. For example, Mylan (MYL) was awarded 180 days of marketing exclusivity for Cyclobenzaprine HCl ER capsules—the generic version of Cephalon's Amrix capsules.
Article continues below advertisement
The proposition of marketing exclusivity attracted many generic manufacturers to be aggressively involved in Para IV filings. Major players—like Teva (TEVA), Actavis (ACT), Mylan, Sandoz, Par Pharmaceutical Companies, and Impax (IPXL)—have been in this game for a long time. They're still going ahead with Para IV filings. Please refer to the above chart for comparative analysis of leading companies' FTFs (first-to-files).
Process of Para IV filing
A branded company can file a case of infringement against a generic manufacturer within 45 days of receiving notification from the generic manufacturer. If a case is filed on time, then the stay order for 30 months is given to a brand company. Also, the FDA suspends the approval of the ANDA for the next 30 months. If the court finds that the patent isn't valid or wouldn't be infringed, then the FDA can approve the ANDA. Otherwise, it won't be approved.
What's shared exclusivity?
If multiple ANDAs are submitted for the same drug on the same day, the 180-day market exclusivity is shared between the first two generic companies. Actavis (ACT) shared 16 out the total 49 market exclusivities in 2012. To an extent, shared exclusivity diluted the attractiveness of the exclusivity. However, FTFs still holds a charm.
Pharmaceutical ETFs—like the S&P Health Care Select Sector Index (XLV) and the iShares U.S. Healthcare ETF (IYH)—are capitalizing on the industry's profitability.