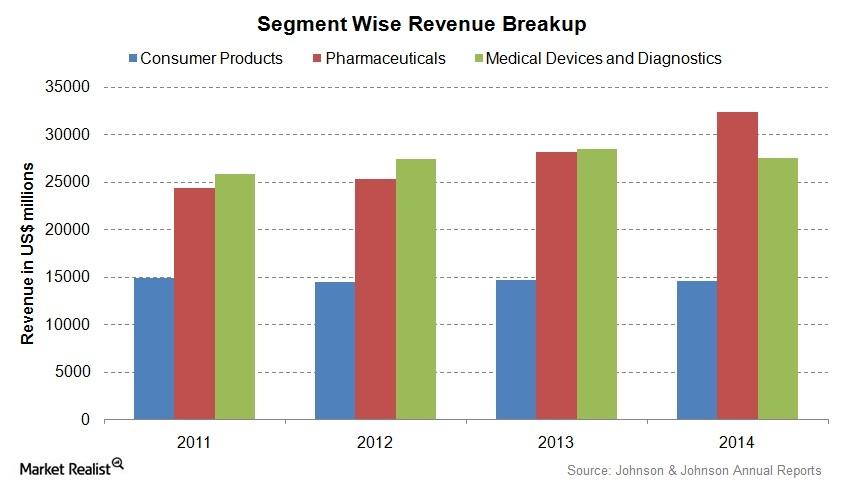 Johnson & Johnson's Global Business Strategy Promotes Growth
Business strategy
Johnson & Johnson (JNJ) operates in nearly 60 countries. It sells its products in about 200 countries. The following chart shows the breakup of sales to customers by business segment.
Article continues below advertisement
Article continues below advertisement
Johnson & Johnson's operations
Nearly 55% of Johnson & Johnson's revenue comes from non-US markets. The company focuses on the innovation of new products that bring value to people, healthcare professionals, and health systems around the world.
The company operates 134 manufacturing facilities and eight innovation centers across the globe. In the US, there are eight manufacturing facilities for the Consumer Products segment, eight for the Pharmaceuticals segment, and 26 for the Medical Devices and Diagnostics segment. There are 41 manufacturing facilities in Europe, 15 in the Western Hemisphere—except the US, and 36 in Africa and Asia-Pacific.
Most of the manufacturing facilities outside the US serve more than one business segment. Major research facilities are located not only in the US, but also in Belgium, Brazil, Canada, China, France, Germany, India, Israel, Japan, the Netherlands, Singapore, Switzerland, and the United Kingdom.
Consumer segment
The company introduced various products including moisturizers, body lotions, body wash, anti-aging lotions, skin care products for sensitive skin, no-calorie sweeteners, and pain relieving creams. The new products were mainly focused in the US, the United Kingdom, Canada, and Australia. This determines the company's efforts to maintain its market share in the Consumer Products segment in the US and non-US markets.
Article continues below advertisement
Pharmaceuticals segment
The company is focused on developing and improving drugs in order to maintain the revenue stream from this business segment. The patents for Remicade—the company's largest selling product—will expire soon. In 2014, Remicade accounted for 9.2% of the total revenue. Recently, the company launched Edurant, Olysio, Xarelto, and Zytiga.
Medical Devices and Diagnostics segment
The company is mainly focused on orthopaedic products for joint reconstruction and trauma. Apart from this, the company introduced various products for oncology, cardiovascular care, surgical care, diabetes care, and vision care. Johnson & Johnson already went for the divestiture of the Ortho-Clinical Diagnostics business. It's exiting certain women's health products.
Other big pharma companies including Pfizer (PFE), Merck & Co. (MRK), GlaxoSmithKline, and Novartis AG (NVS). They're constantly working to increase their product range and market reach. Merck & Co. forms about 6% of the total assets of the Health Care Select Sector SPDR ETF (XLV).