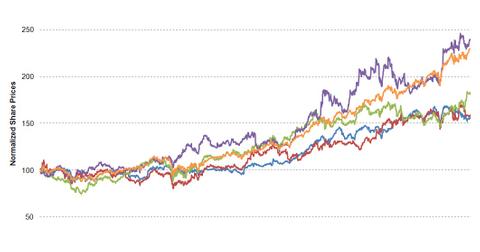 Johnson & Johnson: A Leading Pharmaceuticals Company
By Mike Benson

Mar. 11 2015, Published 3:30 p.m. ET
Company overview
Johnson & Johnson (JNJ) is one of the leading pharmaceuticals and healthcare companies in the US. The company's business is divided into three major segments:
Pharmaceuticals
Medical Devices and Diagnostics
Consumer Products
The group is referred as "Johnson and Johnson Family of Companies." It includes around 275 subsidiary companies. It has operations in 60 countries. Its products are sold in around 200 countries.
Article continues below advertisement
Share price performance
The above graph shows Johnson & Johnson's share price performance compared to its peers. On an annualized basis, the company delivered returns of 13.4% from February 2010 to February 2015. In the same timeframe, Merck & Co. (MRK), Pfizer (PFE), and Bristol-Myers Squibb Co. (BMY) each delivered annual returns of 14.2%, 18.5%, and 24.9%, respectively.
During the same period, the annualized return for the Health Care Select Sector ETF (XLV) was 20.38%.
History
Johnson & Johnson was founded by three brothers in New Brunswick, New Jersey in 1886. The company started its business operations by introducing a line of ready-to-use surgical dressings. Surgical dressings are used to cover a wound to promote healing and prevent further harm.
The company published Modern Methods of Antiseptic Wound Treatment. It was considered to be one of the standard texts for antiseptic surgery in 1888. In the same year, the company also introduced its commercial first aid kits to help railroad workers. Later, it became standard in treating injuries.
The company transformed into a publicly traded company in 1943. It had a listing on the NYSE in 1944. The company's common stock has also been part of the Dow Jones Industrial Average since 1997. It's one of the Fortune 500 companies. As of 2014, the group had ~126,500 employees at over 275 Johnson & Johnson operating companies. The total revenue from all three business segments was over $74.3 billion in 2014. It had net earnings of about 22% of the total revenue.