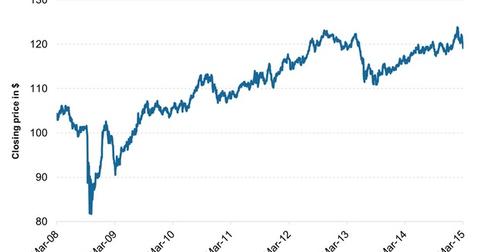 What are investment-grade bonds?
By David Ashworth

Mar. 12 2015, Published 9:09 a.m. ET
Investment-grade bonds
Investment-grade bonds are fixed-income issuances with a rating of BBB and above as provided by credit ratings agency S&P (Standard & Poor's). The agency uses modifiers + and – to show relative standing within the major rating categories.
An issue rated AA+ has a higher standing than one rated AA, which has a better standing than a paper rated AA-. A rating of BBB- is the lowest rated paper considered investment grade by S&P.
When we talk about investment-grade bonds, we mean both U.S. Treasuries issued by the U.S. Treasury Department and corporate bonds issued by high-quality corporate borrowers such as Verizon (VZ), Goldman Sachs (GS), and General Electric (GE).
ETFs such as the iShares Barclays 20+ Year Treasury Bond Fund (TLT), the iShares Barclays 7–10 Year Treasury Bond Fund (IEF), and the iShares Barclays 1–3 Year Treasury Bond Fund (SHY) invest in U.S. Treasuries of varying maturities.
On the other hand, ETFs such as the iShares iBoxx $ Investment Grade Corporate Bond Fund (LQD) invest in investment-grade corporate debt issues.
Article continues below advertisement
Treasuries and investment-grade bonds: What's the difference?
The primary difference between Treasuries and investment-grade corporate bonds is that Treasuries are virtually risk-free since they're issued by the U.S. government and are not subject to ratings. Corporate bonds, on the other hand, are subject to ratings and carry an element of risk of default based on the issue's rating.
Due to a very low possibility of default, a Treasury security of a certain maturity has typically lower yields than the highest rated investment-grade corporate bond of the same maturity.
In this series, we'll look in detail at investment-grade corporate debt issuances for the week ended March 6. But first, let's take a look at how yields on corporate bonds have fared in 2015 so far.
You can read more about the primary and secondary market activity in U.S. Treasuries in our series Economic conditions force Treasuries lower.