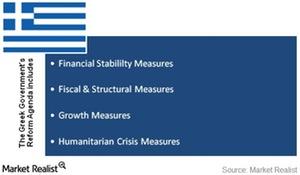 Greece agrees to key reforms in its bailout extension
By Surbhi Jain

Updated
Greek reforms not quite what Tsipras promised in election campaign
On February 23, 2015, Greece (GREK) submitted a six-page draft of economic and structural reforms it would undertake if its Eurozone creditors (EZU) (VGK) (HEDJ) (FEZ) approved a four-month extension on its bailout loan. The reforms in its bailout extension are intended to bring about a compromise between Greece's creditors and the Greek government.
For example, in his election campaign, Greece's new prime minister Alexis Tsipras pledged to raise the minimum wage immediately. However, in its reforms, Greece also agreed to phase in collective bargaining and raise the minimum wage over time. Any changes must be approved by its partners.
Article continues below advertisement
Greece promises reforms, and yet more reforms
On February 23, Yanis Varoufakis, Greece's finance minister, submitted Greece's reform agenda to the president of the Eurogroup. Reforms include combating tax evasion and reforming the public sector. They also include major issues such as labor reform and social spending.
Other reforms cover certain financial stability measures, fiscal and structural measures, and steps to boost growth and fight Greece's humanitarian crisis.
The implementation of these reforms may benefit American firms such as Accenture (ACN), Xerox Corporation (XRX), and The 3M Company (MMM) that have a presence in Greece.
Financial stability measures
Greece's bailout extension included the following financial stability reforms:
Installment schemes. Greece will calibrate installment schemes to help discriminate between strategic default or nonpayment and the inability to pay.
Banking and nonperforming loans. Greece will fully utilize the Hellenic Financial Stability Fund and deal with nonperforming loans in a manner that considers the bank's capitalization.
Read on to know the key fiscal and structural measures, the growth measures, and the humanitarian crisis measures Greece agreed to in the bailout extension.