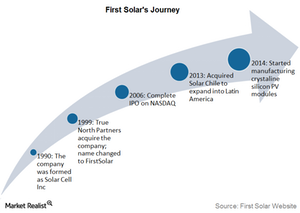 First Solar: A key player in the global solar power industry
The global solar power industry
Last month, Market Realist published a comprehensive overview of the global solar power industry. We looked at the history of solar power, its applications, and the science behind the industry. We then zeroed in on solar photovoltaics, discussing the types, the value chain, and the companies operating in each leg of the value chain. We also looked at key markets and the potential for solar energy in the coming decades—as forecasted by reputed sources like the International Energy Agency and the European Photovoltaics Industry Association.
If you haven't read our industry overview, it would be a good idea to take a look before or after reading this series so that you can understand the industry better.
Article continues below advertisement
A Brief History of First Solar Inc.
First Solar (FSLR) was originally founded in 1990 by Harold McMaster as Solar Cells Inc. The name later changed to the present First Solar in 1999, when True North Partners, a private equity investor, bought the company from the original promoters.
The company went public in 2006 on the NASDAQ. 2006–07 saw many other solar energy companies, including Canadian Solar (CSIQ), Trina Solar (TSL), and Yingli Green Energy (YGE), going public on the back of rising demand for solar PVs. First Solar was the first solar power company to be included in the S&P 500 (SPY).
Why are we covering First Solar?
We're initiating our solar coverage with First Solar. First Solar is a different company from the majority of its peers on various fronts, including its product profile and the services that it offers. We'll take a brief look at the company's operations in the next part of our series before moving on to greater details.